Posted by Janell Patton on April 2, 2021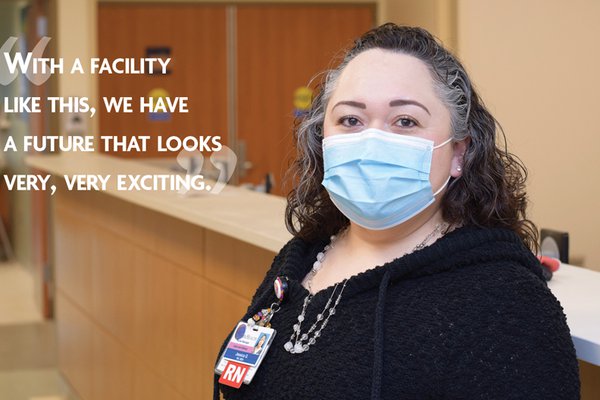 For Jessica Gomez-Rivera, the new Cox Monett embodies what she loves most about CoxHealth: the opportunity for growth.
She has been with CoxHealth for three years. She says she was attracted to CoxHealth's atmosphere.
"Employees are valued here. Their contributions are recognized and appreciated," she says.
"There is a lot of employee engagement and a lot of educational opportunities and opportunities to improve your position."
She has recently stepped into a management role and she couldn't be more excited to be part of this moment.
"This is history in the making. A new beginning."
When the pandemic is over, the new, more spacious facility will offer more room for families as babies are born. Having providers available on the campus, just down the hall is a major advantage.
"For the community, it is an opportunity for hometown-based health care, right around the corner.
"I am part of the Latino community, which is a good-sized community here," she says. "A lot of people are very family centered and having top-notch care in a new facility in your backyard is something people will value."
She always wanted to be a nurse, especially after she helped an uncle navigate the health care system with a chronic condition.
"Just being involved with his care and seeing everything nurses did to help him out made me interested in the nursing profession. I wanted to be that person, like they were for my family."
Gomez-Rivera and her family came to Monett from Ft. Worth, Texas, almost 30 years ago. Her parents worked in the region's poultry industry.
"It's been very nice to see Monett grow. My parents always emphasized getting an education. Now, here we are providing something back into the community that helped us be who we are.
"This is the beginning of so many changes. At a time when we've kind of been halted in our steps. COVID has played a major role in every aspect of our lives. This is a huge glimmer of hope that we can overcome the pandemic. We can do better things in the future. With a facility like this, we have a future that looks very, very exciting."