Posted by Janell Patton on Feb. 16, 2018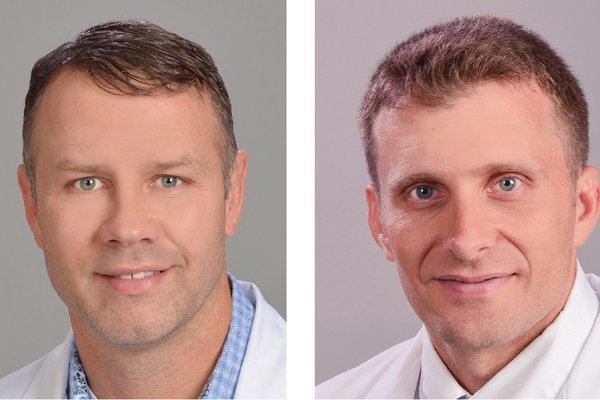 Access to specialists can be a challenge for people living in rural areas, but CoxHealth has a solution for orthopedic care in the Cassville area. Dr. Patrick Finkbone and Dr. Chad Efird, board-certified orthopedic surgeons, are now offering orthopedic care on Fridays through an outreach clinic located inside CoxHealth Center Cassville.   
The new initiative, which is an extension of the physicians' orthopedic practice at CoxHealth Center Branson, is one they felt led to do. 
 "Our motivation for participating in the Cassville orthopedic outreach clinic comes from a desire to be able to provide medical care to a community that would otherwise have barriers to receiving that care," says Dr. Efird. "People in the Cassville area often have a long commute to see an orthopedic surgeon. After we discussed this community in particular, we made the decision that we would like to bring the care to them."
Services at the outreach clinic include general orthopedics, sports medicine and arthroplasty. Patients must have a physician referral to be seen at the clinic.
 "The leadership team at CoxHealth and specialty providers recognized an opportunity to enhance our services in the southwest corner of the state by establishing specialty physician clinics in Cassville," says Terry Hammer, clinic director with CoxHealth.  "CoxHealth Center Cassville is a beautiful facility, which already provides rural medicine, as well as X-ray, lab, and physical therapy services — it's a win-win for everyone involved."
The addition of specialists to CoxHealth Center Cassville are a natural extension of CoxHealth's commitment to the community. The orthopedic specialists join Dr. Armin Kamyab, general surgeon, in providing specialty care. Dr. Michael Payne and Dr. Brent Murphy, primary care physicians, serve patients along with family nurse practitioners Julitta Shirley and John Lollis. 
 "We are very much looking forward to learning more about the Cassville area and providing accessible care to the people who need it," says Dr. Finkbone. "CoxHealth and our clinic team have been instrumental in setting up this opportunity, and we are very excited and proud to be part of the team serving this community."
CoxHealth Center Cassville is located at 75 Smithson Dr., Cassville.  For more information or to make an appointment, please call 417-348-8100.