Posted by Kaitlyn McConnell on Feb. 1, 2017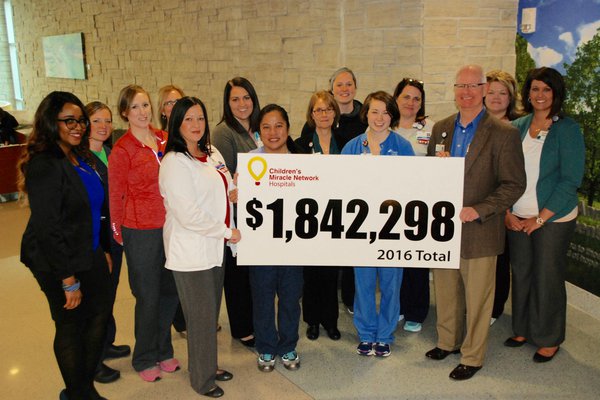 Thanks to the generous support of local friends, 2016 was a record year for Children's Miracle Network Hospitals at CoxHealth.
By the end of the year, $1,842,298 was raised to help local kids and their families through the purchase of life-saving equipment, need-based financial assistance, education and health care.
Despite that figure, however, the work isn't done.
"We are extremely grateful to the people in this community who so generously donated to help local children with medical needs," says Tim Siebert, executive director of Children's Miracle Network Hospitals at CoxHealth. "However, I anticipate that the demand for our assistance will continue to rise each year. The numbers of uninsured and underinsured children in our region is significant and this organization helps ensure that all children have access to medical care."
In order to support those families, Siebert asks that community members consider donating to the organization. Since CoxHealth subsidizes all of Children's Miracle Network Hospitals operating costs locally, all gifts and proceeds go directly to kids – and all of the money stays local, too. A few examples of what donations support include:
Special Needs Fund, which offers direct financial assistance for special medical needs that are not covered by private insurance or Medicaid. This includes including prosthetics, wheelchairs, leg braces, hearing aids, prescriptions and travel expenses for out-of-town doctor's appointments.
Family Care Grants, which provide financial assistance for families whose children have been hospitalized or need specialized therapy.
Educational programs including Wasted, an anti-drinking and driving campaign; Never Shake a Baby, to prevent Shaken Baby Syndrome; and CARDIAC Kids, a program that identifies area children at risk for developing heart disease or diabetes and teaches them how to live a healthy life. Other educational programs focus on car seat, water and bicycle safety.
The C.A.R.E. Mobile, a mobile health clinic providing health screenings and immunizations to children who have limited access to health care.
CoxHealth's Child Life program, a four-person team dedicated to helping create a sense of normalcy for kids who are hospitalized, consequently aiding the healing process.

"Whether it's for direct medical support or education, we try to support the community in a variety of ways," says Siebert. "That's why we hope the folks will consider giving during 2017. Their dollars go a long way for having a direct impact on lives here in our community."
Those donations can be made in ways other than cash. While Children's Miracle Network Hospitals loves monetary gifts, the organization also accepts stocks and bonds, real estate, personal property, life insurance policies, certificates of deposit, retirement funds, as well as wills and bequests.
For more information or to make a donation, call 417-269-5437 or go online to www.coxhealthcmn.com.