Posted by Randy Berger on June 29, 2017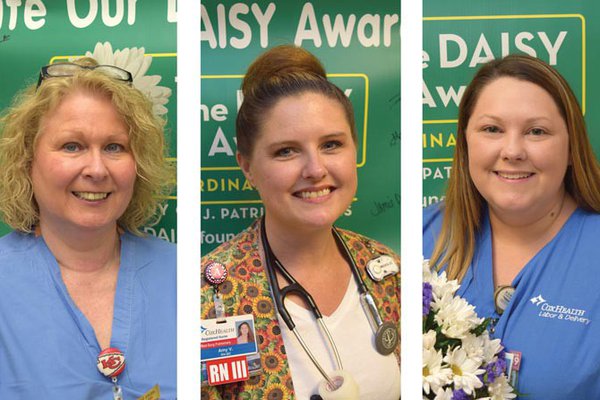 Each quarter, CoxHealth recognizes nurses who have provided outstanding care with DAISY Awards.
The DAISY Award for Extraordinary Nurses is presented in medical facilities throughout the United States to recognize the education, training, skill and compassionate care nurses provide. Patients, their friends and families, co-workers, physicians and volunteers may nominate a nurse for the award.
Here are the most recent Springfield honorees:

Cynthia Myers, Same Day Surgery, Cox South

A patient nominated Cynthia for the extra time and care she took during a stressful visit to the hospital. The patient was undergoing a diagnostic colonoscopy and she was concerned about the outcome. She was trying to be brave, but she was on the edge of breaking down. When Cynthia asked how she was doing, the patient responded, "OK." But Cynthia knew better.

"Cynthia actually stopped and looked at my face. Immediately she said, 'Oh no you're not, are you?' That brought a flood of tears, as I truly was not OK," the patient wrote in her nomination. "Cynthia stopped what she was doing and gave me a hug. She then let me talk and got a Kleenex to wipe away my tears. She took her time with me and started an IV without any problem. 

"Cynthia, to me, represents everything a nurse should be. She focused on me, the patient, instead of the computer screen. She is the kind of person who I wish we could clone! CoxHealth is lucky to have such an inspiring nurse on staff." 

Amy Vandiver, 300 West, Cox South

Amy was nominated by one of her fellow nurses who took note of her extraordinary efforts to care for her patients.

Her colleague wrote: "Amy is one of the best nurses on our floor. She shows up every day with a positive attitude and is always helpful to everyone, especially when another nurse needs help. Recently she took oxygen to a patient on her own time after she left work. The only reason I know is that I overheard her on the phone verifying directions before she left the floor. Otherwise, she would not have mentioned it because it is part of who she is, taking care of people here at the hospital or at their home."
Tara Loveland, Labor and Delivery, Cox South

A fellow nurse nominated Tara for going above and beyond to provide emotional support for a patient and her family during a particularly difficult time. The patient arrived in Labor and Delivery triage with decreased fetal movement and it was soon determined that her baby had died in utero.  

Although Tara was not originally assigned to be the patient's nurse, she was helping with her admission. It was soon obvious that the patient had developed a bond with her. Tara assumed care of the patient and remained with the patient until the end of her shift.

The baby would need to be delivered by cesarean section, scheduled in the evening after Tara's shift was over. Tara told the patient she would return for the cesarean section and take photos of her baby. Labor and Delivery staff create memory boxes with photos and footprint molds for families who have lost an infant.

"Tara provided the patient with not only pictures she will cherish a lifetime, but also the reassurance and compassion this patient and family needed," her colleague wrote in the nomination. "After working her 12-hour shift, Tara went above and beyond by coming back in on her own time, expecting no acknowledgment of her selfless act of compassion and caring. If only one act of kindness can make an unbearable situation a little better, then Tara accomplished that. Tara is exactly the kind of nurse CoxHealth wants taking care of our patients."