Posted by Randy Berger on May 7, 2018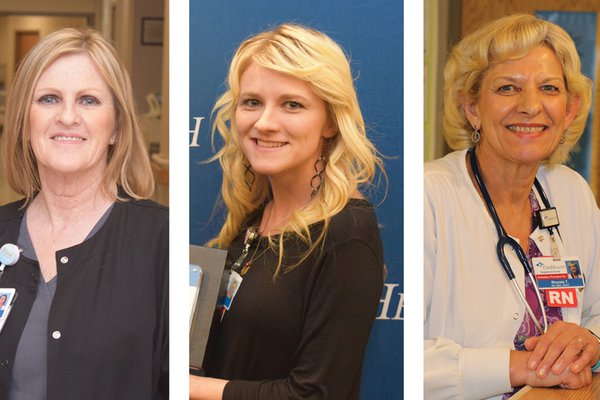 CoxHealth is committed to building a culture of safety, integrity, compassion and respect -- and recognizing the individuals who embody this culture on a daily basis.
Staff members who go above and beyond for our patients and colleagues are eligible for the PARTNERS Spirit award. Recipients of the PARTNERS Spirit award throughout the year become eligible to receive the Prestigious PARTNERS award, which is given to three highly deserving individuals.
This year's Prestigious Partners honorees were recognized at the Employee Recognition Banquet in April. Congratulations to our honorees!
Shandra Goldsmith, 800 Neuro Ortho
From the nomination: "One of our patients on the eighth floor was given a terminal prognosis. The patient's wife was always present at his bedside. While rounding, Sandra Goldsmith discovered that the couple was about to share a wedding anniversary. Shandra found out during her discussion with the patient and his wife that they wanted to do something positive for themselves in light of the negative diagnoses that they were receiving.
The couple decided to renew their wedding vows on their anniversary and asked Shandra to contact one of our chaplains to get the process started. They even asked Shandra to be their Maid of Honor. She gladly accepted the request and agreed to come in on her day off to attend the ceremony. She then proceeded to do so much more for this couple.
Sandra knew that the patient had to remain in the hospital bed and would not be able to travel down to the chapel. The couple were expecting to have the chaplain come to the patient's room and have a very simple ceremony. Shandra had learned that the couple's original wedding had a Hawaiian theme. She began reaching out to fellow staff, Pastoral Care, her nurse manager etc., for help in bringing together a Hawaiian-themed wedding renewal for the patient and his wife.
Shandra coordinated with several departments and staff to get decorations, outfits and flowers. She even contacted Catering services and arranged for them to bring up punch and a small coconut wedding cake for the patient and his wife.
Shandra had offered to take pictures of the couple but she was already occupied being the Maid of Honor. Therefore, she asked her daughter (another CoxHealth employee) to attend and take pictures. Shandra even got another Assistant Nurse Manager to record the ceremony for the couple. Shandra's granddaughter attended the ceremony as well and played music for the couple.
All of these things helped to create an amazing memory for a couple who were told that they would not have much more time together. Everything that Shandra did and helped set into motion was amazing and wonderful for this couple. Shandra truly is an incredible nurse and human being and we cannot possibly thank her enough for planning and coordinating such a wonderful day for a patient who really needed it."
Emily Matheson, Neonatal ICU
From the nomination: "Emily was the Charge Nurse on duty in the NICU on the night the NRT team was called to the ED for a pregnant trauma patient. The patient was C-sectioned in the ED where Emily and the team took over the care of the extremely premature baby girl.
After transferring the baby to the NICU, Emily continued to provide care to her until she passed away just prior to Emily's shift ending at 7 a.m. Even though Emily worked a 12-hour shift, she stayed more than four additional hours to care for the patient post mortem and to make sure the family had all the items we could give them for memories.
Emily bathed the baby, dressed her in a gown and blanket and called in a professional photographer to take pictures for the family. During all the care, Emily also played lullabies softly in the patient's room.
While I believe all of this in itself is extraordinary, one other observation - Emily held this baby girl until she passed, as her family was unavailable; her mother was in NTICU and her father was emotionally unable to be with his daughter. This little girl passed away in the loving arms of the nurse who who cared for her from birth until the end of her very short life and stood in for her parents so she would not be alone.
This is just one example of the type of care Emily provides to her patients and their families. She consistently demonstrates Partners Behaviors, shows a caring compassionate spirit and is an example to all of living our Mission, Vision and Values."
Rhonda Toler, Ambulatory Procedure Center
From the nomination: "The Ambulatory Procedure Center received orders for a patient to receive treatment three times a week for five months. The department became quite familiar with this patient. As her treatment progressed, Rhonda Toler became the patient's favorite nurse.
Although the patient received excellent treatment, her condition worsened and it soon became evident that she would not live long. She had mentioned several times that she would like to go to church, but had no way to get there.
With kindness and grace, Rhonda would pick her up on Wednesday nights and Sundays and take her to church.
One day, the patient confided that she did not think that her young daughter would be able to pay for her funeral as the time was coming nearer. She asked Rhonda if she could help her daughter with the funeral arrangements and also sing at her funeral when she did pass.
That weekend, the patient passed and Rhonda spoke with the pastor of her church and they developed a plan so that the patient would be buried with dignity and her daughter would be relieved of the added anxiety of the arrangements.
Rhonda also took time off from her own job to attend and sing 'Amazing Grace' at the funeral. The week between her patient's passing and her funeral were extremely stressful for Rhonda, but I have no doubt that if asked, she would do it all again."