Posted by Kaitlyn McConnell on Oct. 9, 2018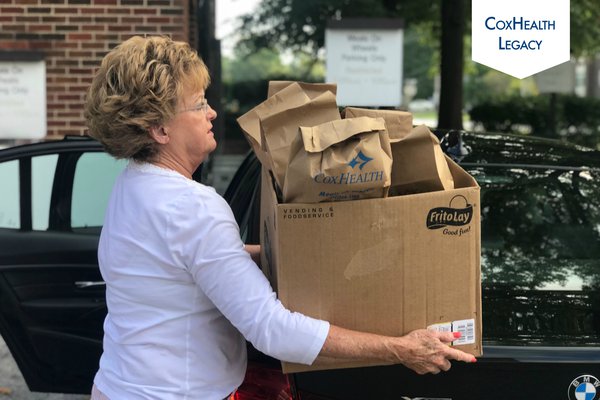 For decades, CoxHealth's Food Services team has cooked and served thousands of meals every single day. Most of them are for patients, family members and staff, and are eaten at one of the health system's hospitals.
Others, however, are enjoyed in the comfort of local residents' homes through Meals on Wheels.
For more than 47 years – from the beginning of the program's inception in Springfield – CoxHealth has prepared and provided meals for the delivery program for home-bound residents in the area.
CoxHealth makes no profit from this venture: The health system plans menus and prepares the hot meals, and is simply reimbursed for the cost of food.
"We feel it's a privilege to be able to part of that at CoxHealth, especially from Day 1," says Jesse Baedke, manager of Food and Nutrition Services at Cox South.
Things were different when the program began back in June 1971. Shortly after its start, Springfield newspaper reports note that there were 18 people enrolled. The benefit, however, didn't take long to see. 
"Without exception, those served by the project have benefited immeasurably," printed a Springfield newspaper article in November 1971. "Nearly all have gained needed weight, but even more importantly they've acquired a happier outlook just knowing there are those who care enough to bring them meals…and to stay and talk a bit when time allows."
That benefit is still seen. Instead of a few dozen recipients, however, around 140 people now receive the meals every single day. That figure translates to approximately 35,000 meals each year.
Before those meals are prepared, CoxHealth staff spend time creating menus that are options for participants with specific allergies or dietary restrictions.
"We had a patient who could no longer eat food by mouth, so we send over nutritional supplements," says Baedke. 
After the meals are made, they're packaged and taken for distribution. A portion of the lunches are picked up by volunteer delivery drivers at Cox South, while the rest are taken to Cox North, where other drivers receive meals for their routes. 
On a recent weekday, one of the volunteers to arrive at Cox North was Carolea Albers Morris, who retired from CoxHealth in 1998.
Morris is no stranger to the Cox North campus. That's where she started her nearly 35-year career with the health system: She worked in surgery before becoming head nurse in the Emergency Department, where she stayed for around 15 years. Later, she says she helped open Cox South when the hospital was completed in 1985.
Now in retirement, working with Meals on Wheels is a way to continue helping the community, and ensuring its members stay healthy and well.
"We're a once-a-day Monday to Friday check for their safety," she says. "If we can't rouse someone, we'll call their contact or the police for a well-person check."
That fact ultimately ties to the nutritional benefit that Meals on Wheels provides patients – and supports CoxHealth's fundamental purpose.
"Our mission is to improve the health of the community we serve," says Baedke. "Helping individuals meet their nutritional needs and remain in their home means a lot."