Posted by Kaitlyn McConnell on Oct. 18, 2018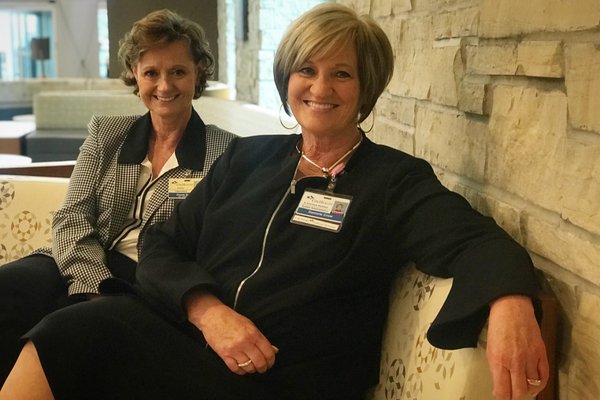 Sisters often have experiences that bond them together.
In the case of Gisele Bauman and Damaris Crow, one connection is where they work. Both women are longtime employees at CoxHealth, collectively spending nearly 65 years serving at the health system.
Another link, however, is one they wouldn't have wished for. They both know what it's like to have breast cancer – but in both situations, mammograms helped make the diagnosis.
"In my case, I had no signs or symptoms," says Gisele, who was diagnosed around six years ago. "I had not felt a lump to let me know there was something going on."
For her, a coworker's breast cancer diagnosis prompted her to get a mammogram, which she had put off. Today, she's thankful that she didn't wait any longer.
"I had an aggressive tumor, so had we not caught it when we did, I don't think I'd have the encouraging prognosis that I have," she says.
For Damaris, the diagnosis was made during her annual mammogram. "I have faithfully gone in every year since 40," she says. "I didn't feel it, either, and mine was really close to the surface."
The diagnosis, while unpleasant, was made easier by Gisele's support.
"She was sort of my rock to ask questions of," says Damaris of Gisele. "She even went with me to my first appointment with Dr. Buckner."
Today, both women are in remission, and share some words of wisdom. One, while self-exams are an important way to realize any changes, they are not ultimately a diagnostic tool.
That realization leads to another point of advocacy: The overall importance of mammograms.

Both women are grateful that their cancer was caught when it was; thankful that they got mammograms when they did.
"I think not getting a mammogram is the biggest mistake," says Damaris. "The sooner you get one, the more treatment options you have." 
"Once you know, you have power," adds Gisele.  
CoxHealth recommends that women age 40 and older have a mammogram annually. For more information or to schedule a mammogram, call 417-269-LADY (Springfield), 417-348-8313 (Branson), 417-354-1138 (Monett) or 417-681-5161 (Lamar).