Posted by Brandei Clifton on Oct. 26, 2018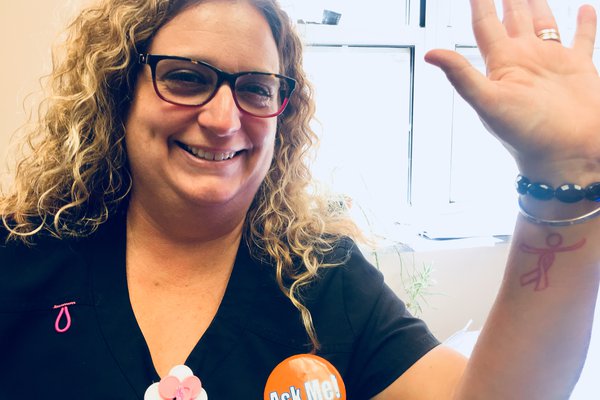 When Andrea Romeiser, a nurse manager at Cox Branson, found out she had breast cancer, the thought of her two little girls made her mission perfectly clear: She had to win.
And she did: Romeiser will soon celebrate her 15th year of being cancer free, but achieving survivorship came with its share of struggles.
"When I was diagnosed, I tried so hard to keep my head up high to keep fighting," she says. "Life went on. We still carved pumpkins and went trick-or-treating as it all sank in."
After a mammogram, biopsy and two failed surgeries, Romeiser turned to her church for inspiration. A special ministry called Parish Nursing ended up being a healing service for her.
"I kneeled at the altar and asked God to do what he needed to do with me. I had a 2-year-old and a 5-year-old who needed me, but I trusted he would use me in whatever capacity he needed. I have no doubt his hands guided my recovery."
Another surgery yielded clear margins on the cancer, which had infiltrated her milk ducts.

"I was treated in two and a half years with 10 surgical procedures and many life trials," Romeiser says as she twirls a celebratory pink hair extension. "I was a mother, wife, daughter, sister, and now I was a survivor."
Those two little girls are now young women and, although they were too young to remember her cancer fight, Andrea says it's made their entire family stronger.
"We talk about it, and they know they were my source of strength during those trials," Romeiser says. "I think our entire family is more appreciative of every day because of where we've been." 
She says she's celebrated every day the past 15 years.

"Every day of my life is a gift, and every day I continue to heal. I'm healing to be a better mother, wife, sister, daughter and friend. I'm healing to help others work through their diagnosis. I'm healing to be a leader in my position as a nurse manager. And, I'm healing to be a leader and disciple of Christ. He is the one who picked up my life. Today, I am cured even though I continue to heal." 
As she reflects on her journey, Romeiser stresses the importance of knowing your own body.

"Do self-exams and be visually aware of your landmarks, skin tone and skin health," she says. "I actually discovered my cancer months before I had it examined by a physician. And, even after that, it was misdiagnosed as a breastfeeding callus. I had to be persistent and get a second opinion."
Another tip? Romeiser encourages you to keep follow-up appointments.

"All these years later, follow-ups are important, as well as continuing to be an advocate for self-care and to be a good role model for my girls, friends and family. I have told friends do more self-exams – one of them discovered cancer.  You just never know whose life you may save by sharing your story." 
CoxHealth recommends that women age 40 and older have a mammogram annually. For more information or to schedule a mammogram, call 417-354-1138 (Monett), 417-681-5161 (Lamar), 417-269-LADY (Springfield) and 417-348-8313 (Branson).