Posted by Randy Berger on Dec. 15, 2017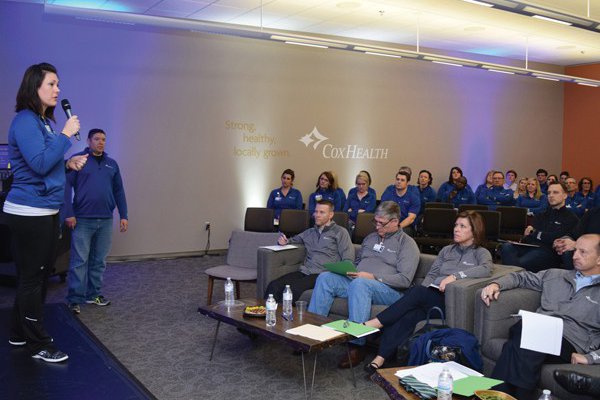 CoxHealth will hold its next Innovation Accelerator on January 30 and January 31 at the Missouri State University eFactory.
Employees have until Dec. 22 to apply to join teams that will bring concepts to life during this two-day event. Here's a look back at the 2017 Innovation Accelerator last spring:
Mollie Estes, mind-body coordinator at CoxHealth Fitness Centers, had an innovative thought: What if, in the interest of employee wellness, CoxHealth could use a point system or funds to help cover employee costs at the fitness center? That was the proposal she brought to CoxHealth's second Innovation Accelerator, where she joined 50 of her colleagues in making one-minute pitches for their best improvement ideas.  
Everyone loved the thought. As the team began to develop the specifics, Human Resources representatives had to break the bad news – there was one key player that didn't like the idea: the Internal Revenue Service. IRS rules forbid corporations from using pre-tax funds to cover fitness memberships. After a brief consultation with HR, the team went back to square one. The tension mounted as they worked to refine the project. 
"The team was amazing, there's a bonding that happens that you don't get in a normal work environment." Mollie says. "We had such a variety and different points of view – I couldn't have asked for better people."
Teams were under a tight deadline: After voting on the top ideas on day one of the retreat, the employees joined teams to fully develop the top ideas. On day two, they made their final presentations to a panel of business leaders in a format similar to the reality TV competition show "Shark Tank." 
Mollie's group drafted a new proposal, focusing on smaller micro-gyms and other fitness opportunities. By the afternoon of day two, they were ready to do a dry run pitch for the Innovation Accelerator coaches. Simply put, Mollie says, it was "a disaster." Too many ideas, not enough focus. And now, they had one hour to fix it.
Mollie's Fitbit tells the tale of the team's nervousness and mental focus: "It showed my heart rate had been in the fat-burning zone for three hours that day. That's longer than on a day when I teach three classes at the fitness center."

They regrouped and before they knew it, they were presenting in front of their peers and the leadership panel. After a day and a half of work, and a tense hour of refinement, the moment of truth had arrived. 
"We did the presentation, and there were some questions, but we were able to answer them," she says. "And then there was silence. Silent 'sharks!' Our ideas were accepted well and they were praised – seeing all the heads nodding was really, really nice." 
In developing their ideas, facing challenges and working together to adapt their proposals into the best possible form, the team had lived through the spirit of the Innovation Accelerator. They now had firsthand experience with a mantra that Scott Rogers, system director of performance integration and innovation, repeated more than once: fail forward, fail fast. When you're working to innovate, you have to try new things, notice what's working and what isn't and adjust quickly to keep moving forward. The event isn't just about finding the best ideas, it's about hands-on collaboration to drive change in a rapidly evolving field. 
"There's no filter and we're open to new ideas," Scott says, noting that many teams, just like Mollie's, pivoted their ideas and made them more effective, as they prepared for the final pitch. Scott says the teams' agility, as well as advanced planning – including preparation classes on the elements of a good pitch – helped everyone make the most of the two-day session. 
"Our teams had done research on what others are doing and they were focused on how we can do things differently and offer new services," Scott says. 
Participants applied to be a part of the process and 50 were selected, with the goal of having a mix of employees from throughout the organization and ranging from leadership to front-line staff. This year's group included 35 front-line staff members, 13 leaders and two providers. 
The first Innovation Accelerator was a huge success in 2016, with both organizers and participants seeing the advantages of an off-site innovation exercise. Spending time outside the daily work environment is an opportunity for team building and it shifts everyone's mindset away from why they  "can't" do something, toward thinking about what could be possible. 
Participants say the event was an eye-opener, and a game-changer in their approach to their work. 
"I had no idea what I was getting into," says Tina Lehr, director of PACU and Same-Day Surgery at Cox South. "In 12 years of working here, this is my favorite thing we've done. This is so beneficial. It helps people see that change is OK. And to stay alive in health care, we have to be able to change." 
Tina says she was inspired by so many of the ideas that were brought to the table, everything from healthy take-home meals and drop-in daycare to music therapy and Uber service to transport patients. 
"Simple ideas are some of the best ones and this is a great way to bring those forward," she says.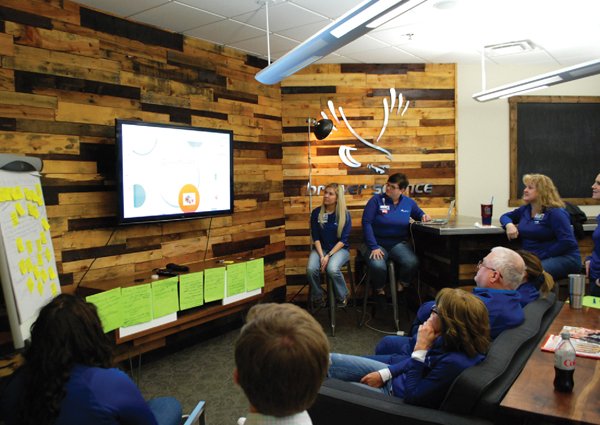 The event's winning idea, expanding telehealth services to the registration process, came courtesy of Bridget O'Hara, who had been considering the idea on her own as she worked on other telehealth projects.
She had seen the results of the first Innovation Accelerator and she jumped at the chance to bring her idea to the event in year two. 
"I was so surprised, just to make the first cut from the 50 – there were so many great ideas," she says. "I thought I had a good one, but how do you pick between so much greatness?" 
Once her idea made the cut, though, she says her competitive nature kicked in. 
"I was sizing up everyone," she says with a laugh. "There was so much excitement, your heart is beating out of your chest when they announce the top three. Everyone comes out feeling like winners." 
Bridget, Tina and others all agree that the Innovation Accelerator forms bonds and friendships that will last far beyond the projects that spawned them. It was those relationships that led Gina Ellerbee to declare the event "one of the best experiences of my professional career." 
"The group setting is intense – I got to meet so many people and get to know them on a different level," she says. "It was awesome to see how everyone used their strengths for the team. We had never worked together before and this all came together in a few hours. It was awe-inspiring. Now, I have a friend in wellness, I know someone who works in the Emergency Department, and I have a friend in Dietary, just from spending those hours together." 
Gina says she's brought the attitude of the Innovation Accelerator back to her daily work. 
"I think about how I can get my own team together to work out a problem or make an improvement. It makes you think about rapid change – it was inspiring in that way." 
Mollie says back at the fitness center, it was hard to return to business as usual. She was on an adrenaline high for the rest of the week. There were no anxiety-filled presentations, but there was also no applause. That's OK, though, because she says she brought back something else. 
"It is a sense of pride in the company we work for," she says. "People really care about their jobs and they really care for our patients. To see that caring lived out with so many ideas straight from the heart was impressive. Watching nurses who already give themselves to care for patients coming out with new ideas – it was inspiring. It's a feeling of pride in how much we can really do."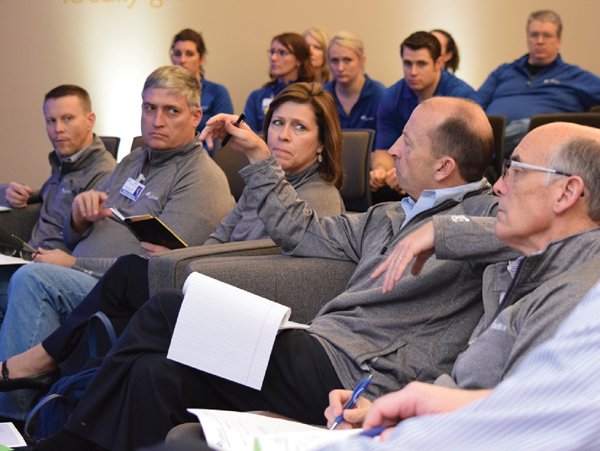 How the Innovation Accelerator works
Staff members apply to participate – 50 are chosen, with special attention paid to representing as many areas of the system and levels of experience as possible.
• All participants bring an idea that they will propose in a one-minute pitch.
• After the pitches, the group votes.
• Ideas with the most votes are selected for development and participants join teams to expand and perfect the ideas over the two-day period.
• As a finale, the teams present to leaders, in a fashion similar to the reality TV competition "Shark Tank."
Top 2017 ideas
First place: Expanding telehealth services to registration processes
Second place: Incorporating dental services in pediatric clinics
Third place: Expanding KidsZone services for employees and visitors