Posted by Brandei Clifton on Aug. 17, 2017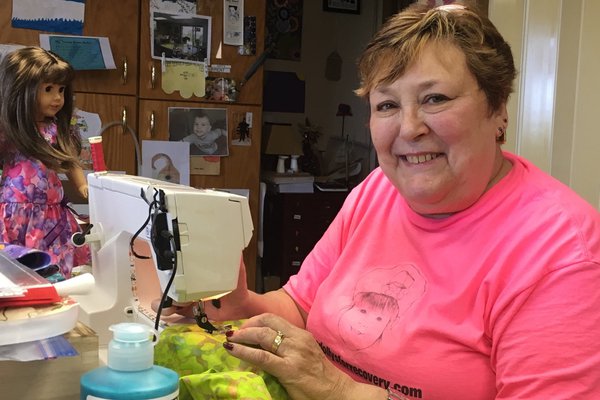 Almost every morning before the sun comes up, Nina Fournier tiptoes downstairs to her craft room where each fabric scrap has a story and is part of her special mission to make little girls smile.
Fournier is the self-proclaimed chief dolly officer for her new non-profit called Janies Dollys for Recovery which brings cheer to children in the hospital. There's a sign on the sewing room door that says "No Comments" because she admits it gets messy in there, but her quest is perfectly clear.
"I want to bring comfort to little ones who are sick," says Fournier. "There's something about a dolly that brings happiness and peace to kids in tough situations."
Fournier fondly recalls a special Christmas with her own daughters that showed her the magic of dolls.
"We didn't have money that year, so my husband plowed snow in exchange for two Cabbage Patch Kids," says Fournier. "I made some outfits for them, and I will never forget how happy the girls were. It was our best Christmas ever! There's nothing sweeter than watching a little girl play with a doll."
Right now, Fournier uses her own money to buy new $25 dolls from Target. Then, she sews a dress and shoes for each one. She will send a selection of dolls to Cox Branson for children who need a pick-me-up.
"It just feels wonderful to do something nice for people," says Fournier. "Wouldn't our world be so much better if everyone paused to do something special for others?"
Even though Janies Dollys for Recovery just got started in Kimberling City this spring, Fournier has been busy behind the sewing machine with her mission in mind. There's a tiny closet in the craft room filled with perfectly pressed doll dresses – created with lots of love in every stitch.
"When I sew, I think about that little girl I've never met before. I'll probably never meet her. I think about choosing all the details for her doll just to make her happy. That's what this is about for me, making her smile."