Posted by Randy Berger on Aug. 29, 2018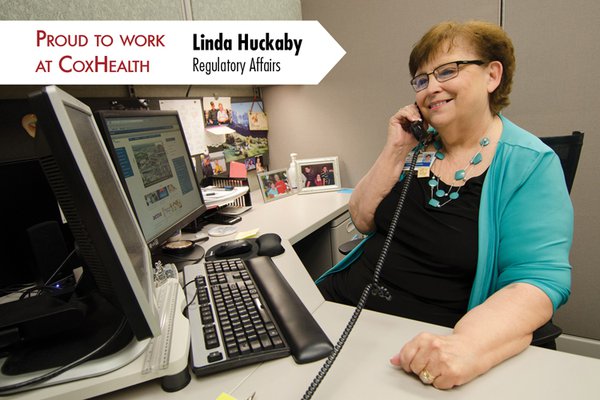 On the eve of her retirement, Linda Huckaby has one piece of advice: "Never stop learning." 
During her 36-year career at CoxHealth, Huckaby held six distinctly different roles – ranging from clerical to clinical. 
"If you see something you want to do, make it known," says the administrative assistant for regulatory affairs. "Health care is always changing. There is always something new to learn. There is always opportunity to grow." 
Huckaby came to CoxHealth in 1982 following a stint as a stay-at-home mom and on the heels of a banking career. In her first role at Cox North Hospital – then the only hospital in the system – she found her health care calling. 
"(My department at the time) was called Missouri Crippled Children back then," she says. "We helped kids who couldn't afford care. The ortho docs would fit them for shoes or perform surgery. I still took shorthand back in those days and would transcribe the doctor's notes." 
Huckaby moved to the Medical Arts Center – now the Turner Center – in 1986, with the Breast Care Clinic. From there, she enjoyed working with children so much, she trained to become a pediatric phlebotomist. When The Women's Center moved to the new Medical Plaza II – now Hulston Cancer Center – Huckaby was along for the ride. There she learned bone density testing before moving back into clerical as Women's Center office coordinator and eventually manager.
By March 2012, she was eager to learn more and took on her current role. 
"It was a whole new world for me," she says, noting she's helped oversee the integration of many of the system's hospital policies. "It's not shorthand anymore. Computers, there's something that's changed. Everything was paper when I started." 
Retiring to be with her already retired husband, children and grandchildren, Huckaby says she's
proud of her time at CoxHealth because she knows the dedication of her co-workers.
 "It's not a very original answer, but I will miss the people the most," she says. "Everyone here does their best every single day. We want patients to feel good about the care they received at CoxHealth. 
"I can feel good knowing I was a small part of that."