Posted by Kaitlyn McConnell on Jan. 27, 2021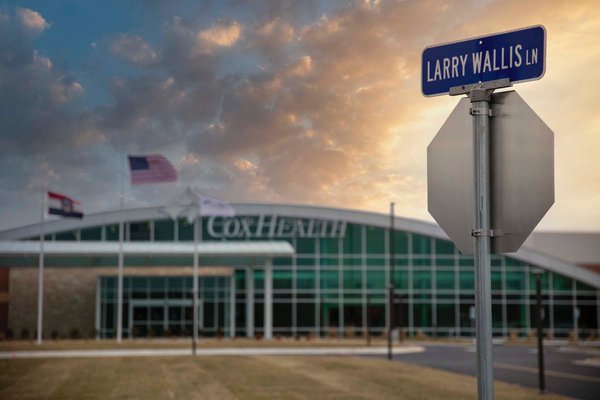 When the new Cox Monett Hospital opened on Jan. 22, it was a result of years of dedication to rural health care, and serving patients where they are. It also gave an opportunity to honor two individuals whose actions, decades prior, paved the way for the hospital to become a reality. Those people are Larry Wallis, former CoxHealth CEO, and Dr. William West, hospital founder, both who are the namesake of roads on the new hospital campus.
"CoxHealth is built on the work of those who came before us. Larry Wallis and Dr. William West are two examples who show this is true," says Steve Edwards, president and CEO of CoxHealth. "Their vision and effort have led the way for this facility, and we are grateful they took actions when they saw a need."
Wallis served as CEO of CoxHealth from 1993 to 2004. During his tenure as CEO, Wallis led the acquisition of St. Vincent's Hospital in Monett from the Vincentian Sisters of Charity, who had operated the hospital since 1944.
In total, Wallis worked with CoxHealth for 39 years. He grew up locally, and came to CoxHealth in the 1960s, where he began as an administrative assistant and administrative resident. He served in a variety of other roles over the years prior to taking the helm in 1993. Among other accomplishments, his efforts have left lasting impressions on the health system through the acquisition of Oxford HealthCare (today's CoxHealth at Home), the start of Cox HealthPlans, the launch of urgent cares, and the development of The Meyer Center and Wheeler Heart and Vascular Center.
"He is such an amazing man, humble leader and many of our best accomplishments are because of the seeds he planted," says Edwards, who worked with Wallis for many years of his career. "We are reaping the benefits of actions that he took years ago, which have helped our organization evolve into what it is today."
Another individual whose actions were honored is Dr. William West, who founded the hospital in February 1914.
A newspaper article soon after the hospital's opening noted that "the patients from the surrounding country who have been treated in this hospital have been well pleased and speak in very complimentary terms regarding the splendid service they have received."  
The hospital briefly closed during World War I so Dr. West could serve his country, but reopened in 1918. The need for advancing services continued to grow: Dr. West expanded the facility's capabilities in 1921 by leasing a nearby rooming house, and seven years later, he moved the hospital into a brand new brick building, where it remained until 1941, when after 27 years of service, Dr. West retired.



"If Dr. West hadn't chosen to start the hospital, and Larry Wallis hadn't seen the importance of expansion for the future of rural health care, we likely would not be here opening this new hospital today," says Edwards.