Posted by Janell Patton on Jan. 24, 2021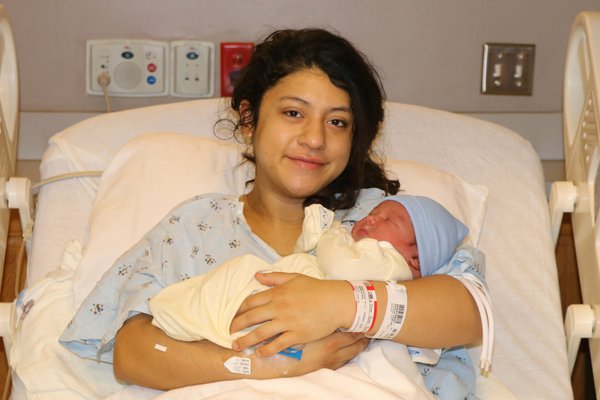 On Jan. 22 at 9:50 p.m., the baby lullaby played for the last time at 801 N. Lincoln Ave, the former location of Cox Monett Hospital.
Earlier in the evening, the hospital moved into their new $42 million facility located on the eastern edge of Monett. 
The birth of little Boaz Bowlin, son of Dylan and Yakeline Bowlin of Monett, marks a significant moment is history.  The little boy, who will go on record as the last baby born at the hospital's former location, weighed 9 pounds, 11 ounces and was 20.5 inches long. 
Mom and baby were moved to the new hospital for care after birth.
"I think it is a wonderful opportunity to deliver the last baby born inside the former hospital," said mother Yakeline Bowlin. "The significance this moment holds for our community and my baby will forever be etched in time."
The final baby born at the hospital was delivered by Dr. Elizabeth Lucore, family practice obstetrician at CoxHealth Monett Clinic. 
"It's an honor to be a part of the birthing experience every time I help a mother to give birth," said Dr. Lucore.  "It was especially poignant to deliver the last baby born at the old hospital campus and to hear his loud, healthy cry echo throughout the facility, but it's also invigorating to be moving forward into this next chapter with new memories to be made." 
Yakeline said her experience at the new hospital has been great and the staff are amazing.