Posted by Kaitlyn McConnell on Jan. 26, 2021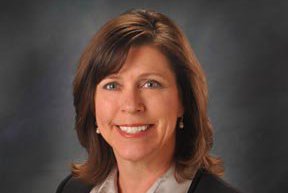 We are excited to share that Karen Kramer, senior vice president and CoxHealth's chief hospital officer, has been honored with the 2021 ATHENA Award. The prestigious honor, given annually by the Springfield Area Chamber of Commerce to exceptional leaders, is meant to help inspire others to achieve excellence in their professional and personal lives.

Karen's more than 32 years with CoxHealth and serving our communities makes her a perfect choice for the award – but even more so as her role as Incident Commander for CoxHealth's COVID-19 response, which she has led for the past year, all while serving as CHO and CNO.
"The ancient Greeks observed Athena as the Goddess of wisdom and warfare, and she was seen as the protectress of cities, including Athens. Karen is our Athena," says Steve Edwards, president and CEO of CoxHealth. "She has mustered up our powerful response in our warfare against COVID-19, and she has become a great protrectress of our cities in southwest Missouri. She is the powerful and uncredited driver behind the scenes who has commanded our response. I am grateful our community is recognizing Karen's amazing leadership. Our entire organization has committed to going to war with her against this disease."
ATHENA Award recipients are individuals who have not only attained professional excellence and served the community, but also those who have actively assisted women in their achievement of professional excellence and leadership skills. They also have contributed their time and energy to improving quality of life for others in the community. Recipients are nominated by the public, and selected from among dozens of nominees by an independent panel of judges.
We congratulate Karen on this honor, and are so thankful to have her on our team!