Posted by Kaitlyn McConnell on Dec. 4, 2020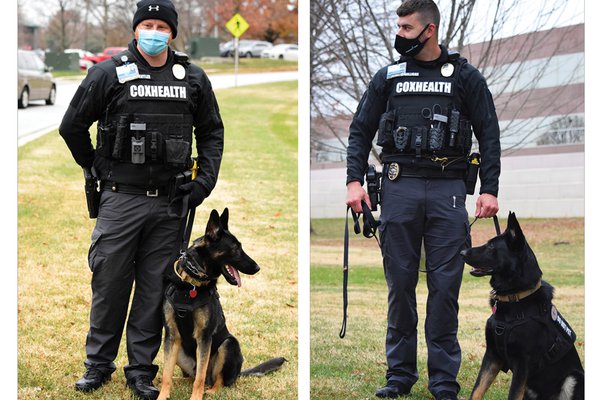 CoxHealth's Public Safety and Security team will soon grow by two four-legged officers: Hugo and Ackley, both registered German Shepherds, who will begin making patrols at Cox South and Cox North in the coming weeks.
Hugo and Ackley are joining the Public Safety team due to evidence that shows K9 officers are effective tools to enhance safety and satisfaction in health care settings. National trends show the number of assaults experienced by health care workers from patients and family members is increasing across the country. In a way to help bend that curve, CoxHealth is adding these officers, whose calming presence will be a deterrent during tense situations. They can also be utilized when a patient needs to be located, and can conduct explosive, area, and building searches.
"Our staff's safety is a top priority for us, which is what led us to add Hugo and Ackley to our team," says Ron Prenger, chief operating officer at CoxHealth. "Based on data, we believe that their presence will ultimately improve the satisfaction of our patients and employees. Given the success of K9 officers at other hospitals, we believe that this measure is a good one to help protect our staff."
While K9 officers can be found at health systems across the country, it's believed that the K9 officers' role with CoxHealth is a first in the state of Missouri. Funding for the program comes from the CoxHealth Foundation. 
Prior to their arrival at CoxHealth, Hugo and Ackley underwent weeks of training alongside their handlers, K9 Officer Josh Wentler and K9 Officer Montana Millican, who have been part of CoxHealth's Public Safety team since 2015 and 2019, respectively. The duos attended the K9 Police Academy in Wapakoneta, Ohio, in a program that took around six weeks of training. Prior to graduation, both handlers and K9s must pass a series of tests. Certifications will be in handler protection, building searches, explosive detection, and evidence searches.
Hugo and Ackley will become part of their handlers' families and live at home with them.