Posted by Randy Berger on July 31, 2018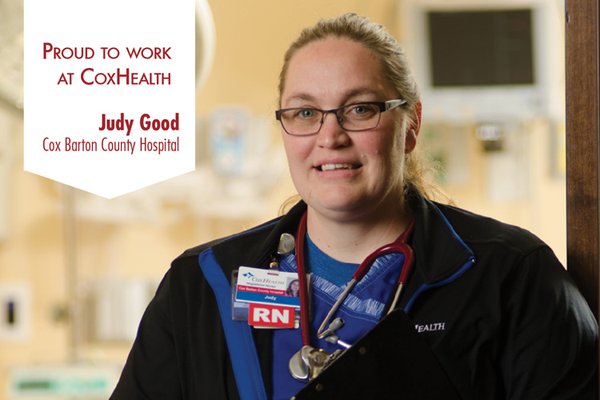 Judy Good was committed to CoxHealth's vision of being the best for those who need us long before Barton County Memorial Hospital in Lamar became a part of the health system this year.
In fact, the seed of a career in medicine was planted when she was just 13 years old. Judy's 15-year-old sister was battling acute myeloid leukemia. Judy decided to become her sister's bone marrow donor. Tragically, her sister did not survive the disease, but a desire in Judy to save lives did. 
"My ultimate goal was to work in emergency medicine to maybe be able to save a life, to make that difference. I felt I couldn't save her but maybe I could help make a difference for others." 
Judy started her career in medicine as an EMT and then became a paramedic. She still enjoys working on ambulances.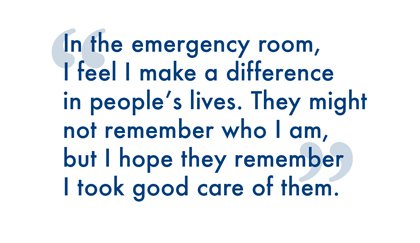 Eventually, she went on to become a registered nurse, and recently became licensed as a certified emergency nurse, the first at Cox Barton County. 
"In the emergency room, I feel I make a difference in people's lives," Judy says. "I try every day to be the best I can be. They might not remember who I am, but I hope they remember I took good care of them." 
One of the aspects Judy feels is most important about the work at Cox Barton County is teamwork. 
"You have to trust the people you work with, especially in life-and-death situations. We need people around us we can trust and rely on. We need to trust them to make good decisions." 
Judy has worked at the hospital in Lamar for 10 years. Now, Judy feels very proud to be a part of CoxHealth. Having grown up in the Mennonite community, Judy is the first in her family to go to college and to work outside of the community. 
"For me to be able to work for CoxHealth, that's amazing. I'm very proud to work at CoxHealth."