Posted by Randy Berger on Oct. 17, 2018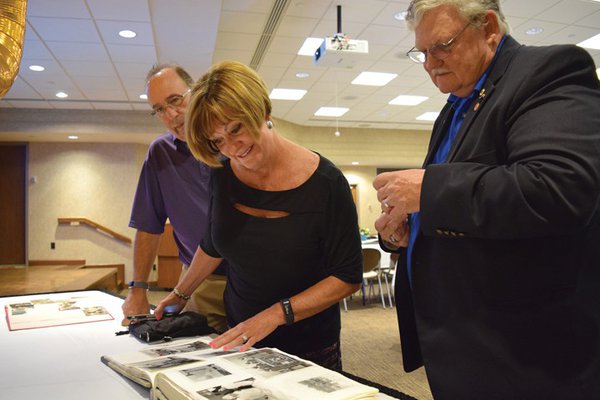 Tom Cochran, Judy Doran Cochran and Gerald McCoy look through a Medical Explorers scrapbook at this summer's 50th anniversary celebration. The trio were among the first students to go through the program in the late 1960s.
Medical Explorers opened doors for these health care professionals.
What do you want to be when you grow up? It's a question we all explore. 
For students asking that question, a chance to experience the medical field can change the course of a career, and a life. 
For the past 50 years, CoxHealth's Medical Explorers has been introducing students to health care. The program opens doors for students and it plants the seeds of our future workforce. 
"Kids should be doing something like this," says Judy Doran Cochran. "This is the time to ask, 'what is my passion? Where do I think my future might be? It's good to explore your options."
Judy speaks from experience. She was among the first explorers in the late 1960s. She thought she might become a nurse and she knew Medical Explorers would be a chance to get close to the action. 

"I worked in all the areas - ER, surgery - you name it, I loved it," she says. Judy got to know the man she would later marry, an Eagle Scout named Tom Cochran, through the program. Little did they know then she would build a career in Laboratory and he would become a pharmacist.  
Judy and Tom were part of a group of original Medical Explorers who attended the 50th anniversary celebration earlier this summer. They shared stories about how the experience shaped them and met with the new generation of students. 
They were joined by their classmates, Malcom Blackburn and Gerald McCoy. All four say the experience as teenagers in Medical Explorers shaped their lives. 
"It kept us out of trouble, for the most part," Malcom says with a laugh. "Medical Explorers really helped me learn a work ethic. Anytime we weren't at school, we were here." 
The group shadowed caregivers and worked in as many areas as possible. The chance to explore brought their career paths into focus. 
Gerald had always known he wanted to work in medicine. He had grown up with asthma and he was immediately drawn to respiratory care. After he was in Medical Explorers, he began working part time at Cox, before moving into what was then known as Inhalation Therapy in 1970. He has been serving patients at CoxHealth ever since. 
Meanwhile, Judy's initial desire to be a nurse evolved into a passion for the lab. She spent 36 years in a variety of CoxHealth Laboratory positions before she retired in 2015. 
"It's been a lot of fun being with this hospital and having been with explorers for so many years," she says. Gerald and I would run into each other at work and it's like, 'Wow, has it really been that many years?' 
"I just had a great time. Even the long days, I can't imagine doing anything else."
About Medical Explorers
Medical Explorers was founded in July 1968, establishing CoxHealth as the second explorer post in the United States.
"Our growth has always depended on a highly skilled workforce," says HR Vice President Andy Hedgpeth. "They believed we need to expose youth to the incredible opportunities and meaningful work that health care can offer."
In the first year, the post had 15 members. Currently, Medical Explorers hosts 340 students, making it the largest in the nation.
Know an interested student? Visit coxhealth.com to learn more.