Posted by Randy Berger on May 7, 2020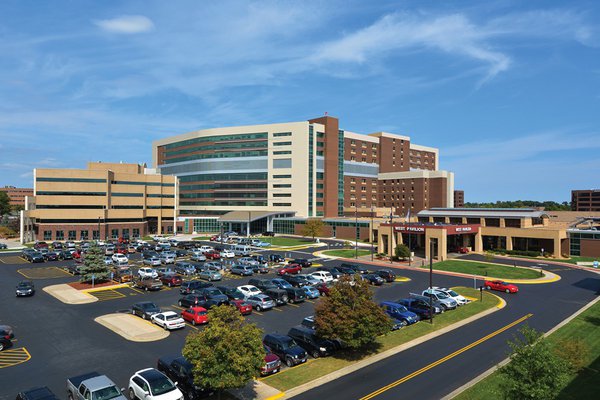 A crisis like COVID-19 requires an organization to focus on daily challenges, but to be successful, we must continue to plan for the future.
Two recent decisions by the CoxHealth Board of Directors show how we are doing exactly that.
Last week, the board signed off on two major proposals: Updating inpatient Psychiatric Services units at Cox North and finishing out the third floor shell space in the West Tower at Cox South.
Both projects will help us meet demand created by COVID-19 in the coming months.
"The board did not hesitate to approve these projects," says Steve Edwards, CoxHealth's President and CEO. "This is about serving our community and that is what our board wants us to do."
Third floor expansion at Cox South
The West Tower at Cox South was built with the future in mind. Three floors were left as shell space for expansion when needed, and COVID-19 has brought those needs to the present.
A few weeks ago, the fifth floor was fashioned into a 51-bed COVID unit, and now a new project will create space for patients as they recover.
"In a surge, the immediate pressure is having enough ICU beds," Edwards says.
With the COVID unit set to meet that need, leaders began planning for how we will manage patients as they recover – recoveries that could require weeks of hospitalization.
The new, $10 million project will add 36 private rooms to the third floor.
 "As we work our way through this tunnel, we expect volume to ramp up high," Edwards says.  "Convalescing patients will consume resources, and we will still have heart attacks and strokes and other patients who we will need space to care for."
The new third floor unit may be used as a COVID unit, depending on the need, but it also expands our ability to move closer to an all-private-bed model in the future.
The rooms are designed to offer negative pressure capabilities, and they are equipped with gasses and infrastructure to support dual occupancy in an emergency.
Edwards says the board was very supportive of moving toward more private beds. And the potential long-term effects of COVID-19 made it clear that the project is needed now.
"We hope we are wrong, but we see COVID as a chronic pandemic for a while. Until we have vaccines and therapies that are proven to work. There is a theory that there will be lots of waves with this. Some may be big ones."
The project is a candidate for possible FEMA funding. It is currently set to be completed in November.
Meeting an increased need for mental health services
Health care has focused on fighting the physical effects of COVID-19, but it is clear that we will soon be dealing with psychological effects as well.
"I don't think our world has been through a crisis like this in 100 years," Edwards says. "It makes sense that the stress and anxiety associated with it could compound mental health issues."
As in other areas of health care, the crisis has led to fewer patients seeking care. That doesn't mean, however, that the need is reduced.
"We know the community is suffering and the board saw that we needed to move this forward," Edwards says. "It is only a matter of time before demand is going to go up again."
The Psychiatric Services project has two components: expanding the pediatric unit and refreshing the adult inpatient unit.
Work on the pediatric side will add new, private rooms, which will increase the unit's capacity.
Currently, rooms have two beds, which can lead to a bed being blocked in cases when a patient is not well-suited to having a roommate.
The expansion will let us optimize the space and serve more pediatric patients.
On the Adult Psych side, the project will provide a much-needed refresh to the space. While the unit was fully functional, Edwards says it was past time to give the unit an updated look and a more inviting environment.
"We made these decisions thinking about the impending need, and the sense that we have to honor these patients," Edwards says. "I am embarrassed that so many health care systems have underfunded behavioral health. We should not be that system.
"We need to be different to serve our community. So many organizations have backed away from mental health and I am proud our health care system has reinvested."