Posted on July 19, 2021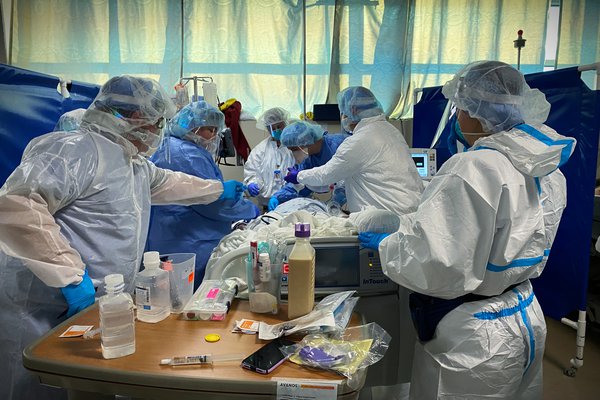 By Kaitlyn McConnell
System Director of Public Relations, CoxHealth
Behind a closed door in a unit that few ever see, in bed lies a man whose condition is becoming increasingly dire.
He is a COVID-19 patient at Cox South, in a unit the health system built at the beginning of the pandemic. It's a place only typically witnessed by health care workers and the patients they serve, and where work is done day and night to give the desperately ill the best chance of life.
Just as a team rallies to do for the man in the hospital bed.
Health care workers know the man's identity, aided by medical records and ID bracelets and perhaps conversations with family. But as they gather around to insert tubes to help him breathe, a small gold wedding band gleams in the overhead lights.
It doesn't say a name, but it speaks to who he is: Someone who has a life. Someone who is loved, as are so many others fighting for more time.
"My patient's daughter called her and said, 'I need you to live,'" says Kristyn Scott, a nurse in the COVID unit. "She said, 'Mom, I need you to live, I can't do life without you. Please don't give up. You're strong and there's lots of people praying for you.'"
Other personal effects speak to the individuals whose lives hang in the balance: A colorful bouquet of balloons streams towards the sky, alongside a card that says "Happy Birthday, Daddy."
A pair of eyeglasses rests on a table near a bed.
What appears to be faded fingernail polish reminds of better days. Of a time when maybe the woman applied it herself before she was sedated, on dialysis for new kidney failure, and when her neurological function wasn't in question. Her nurse says it's doubtful that she will survive.
"We wish everyone could see what we are seeing," says Jeffrey Atkinson, a respiratory therapist who works in the unit. "Perception is key, and we have very few ways of expressing those images and scenarios. Everyone needs to be doing their best to help see this through. Wear a mask, get a shot, come work an extra shift, whatever you can do. This will likely be our legacy in health care. And no one wants to look back and wish that they had done more."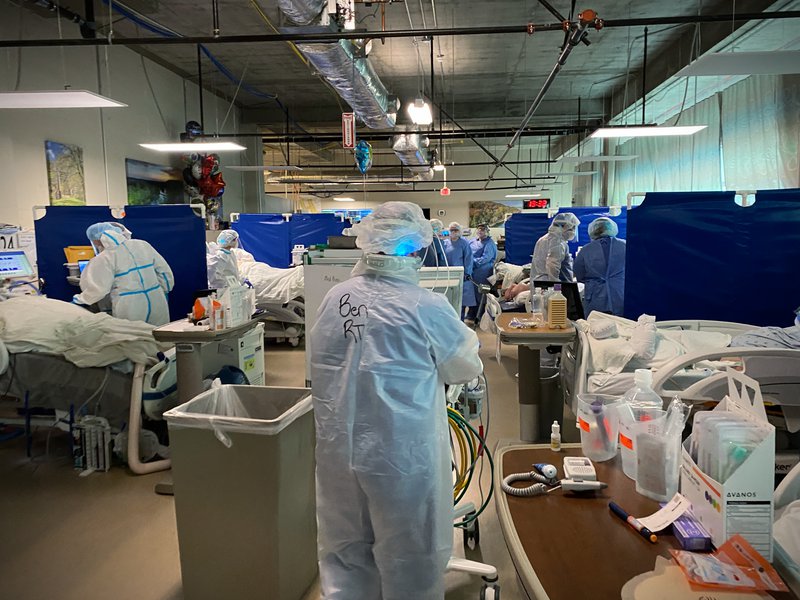 Health care workers serve patients on the ICU side of the COVID-19 West Tower unit.
---
The vast majority -- at last note, around 97 percent -- of those hospitalized for COVID-19 pneumonia at CoxHealth are unvaccinated.
"I never would have imagined the suffering that these patients go through," says Madison Northrup, a charge nurse on the unit. "A lot of times people say or assume the worst part of our jobs are the patients dying, but that's not the worst part. The worst part is watching our patients suffer."
Suffering, in this case, is "not getting enough oxygen even though they're maxed out on everything we can give them."
Northrup has amassed a significant amount of knowledge in a short period of time. At 23 years old, she has been a nurse for just two years. She came to CoxHealth after graduating from college to serve in the Medical ICU.
"One thing I liked about ICU when I graduated and decided to work here was that you take some of the sickest people and turn them around and they recover," she says. "But in COVID that's not the case. When I started here, I thought I was getting into a job where I could turn someone who was super, super sick into walking out of the hospital. Now I'm doing a job where people are super, super sick, but knowing that in most cases there's no way for me to save their life."
She and nurse Sydney Irwin pause for a moment on a busy Friday evening, sitting in a break room next to posters thanking health care heroes for their work.
Irwin also became an ICU nurse near the onset of the pandemic, after working as an ICU aide while going through college.
"I could never have imagined this," says Irwin, in the midst of her final training to be a charge nurse herself. "When I came into the ICU I saw a lot of death, but never would I have ever imagined it to this extent."
She shares one glimmer of hope from her nursing career, nearly entirely consumed by COVID so far, when she cared for a woman who was pregnant and required a ventilator to help her breathe.
"She walked out, and she came back a few weeks later and hugged me," says Irwin. "After that, I thought, 'That is why I chose to be here.' This is what I wanted to do.
"That's never happened again."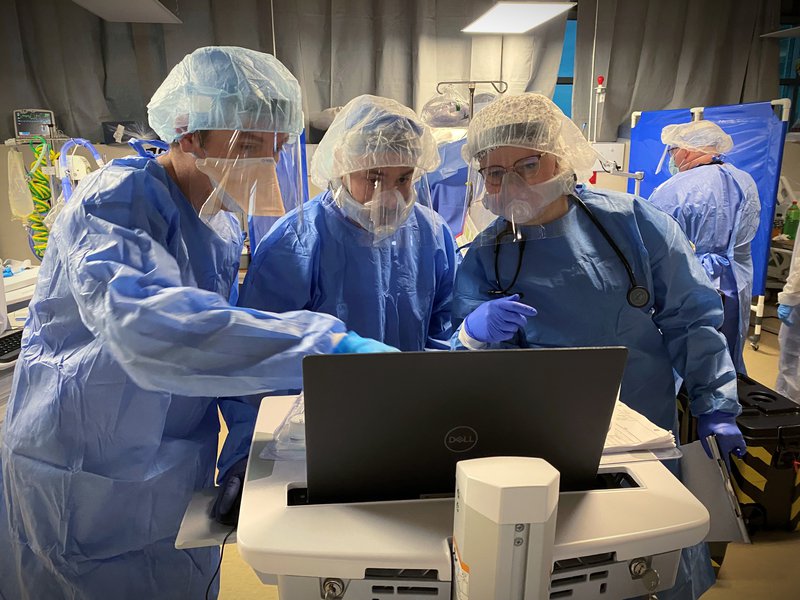 Collaboration at work.
---
Nearly 140 patients with COVID are now hospitalized at CoxHealth, a sharp increase from the approximately 20 as of mid-May.
Most cases are caused by the delta variant, which has hit the Ozarks especially hard, and affects younger ages more than previous versions of the virus. Since delta's arrival around eight weeks ago, people in their 20s, 30s and 40s have been regularly hospitalized, as well as a few pediatric patients.
While most COVID patients go home, more than 500 people have died at CoxHealth with the virus. Those patients are served at CoxHealth hospitals in Branson, Lamar and Monett, but most are cared for at Cox South in Springfield. There, a number of units serve them, but the many are cared for in the open-ward "West Tower" unit, which is now filled with around a third of the health system's COVID patients.
Blue dividers separate beds and offer some privacy, but do not shield patients from the devastation that happens around them.
One side is reserved for ill COVID patients who require general hospitalization, while the other is for ICU-level care. Many in this area are sedated and on ventilators, and unconscious to the world. Instead of a gown or clothing, some patients are covered with blankets and sheets to preserve modesty while allowing ease of care.
Many are "proned" on their stomachs in an effort to help them breathe better. When they are turned, it must be done carefully yet quickly, and the process requires several staff members, given how fragile the patients are. Other patients are so ill that it could be deadly to move them at all.
"COVID has made it where many of our critical patients cannot be moved even a hundred feet to the CT scanner in the tower, for fear of losing them in the process," says Atkinson, the respiratory therapist, who is a team lead and has more than a decade of experience. "The lungs become very fragile with COVID, especially in the critical cases. It is extremely frustrating and disheartening to work so hard, just to often fail. We are constantly torn between trying to help them compensate and trying to avoid damaging their fragile lungs."
When critical COVID patients are moved, it must be done extremely quickly yet carefully due to their fragile conditions. The empty beds in a part of the COVID unit may soon be filled as more staff come to help with the surge.
---
It is loud in the open room, and to some might seem chaotic. Yet, in a twist of irony or moment of hope, the lullaby that is played throughout the hospital when a baby is born can still be heard in the unit.
Health care workers rush past one patient with a "Do Not Resuscitate" sign taped to the end of the bed. Such high-acuity patients require constant focus from staff, but when a patient begins to crash or has a significant need, many more quickly come to help.
"Everybody knows their role," says Northrup, the charge nurse. "Something I would say about our team: Everybody steps up to help each other. Everybody sticks to their role. We work together. It's our job as charge nurses to lead these codes and rapids. People know that somebody needs to be writing stuff down, somebody needs to be pushing meds. So everybody kind of falls into a role. Somebody needs to be doing compressions. We switch out roles or we stick to those roles.
"Specifically to us, we know our job is to make sure that things are being done correctly and make sure that we're running it per protocol and guidelines."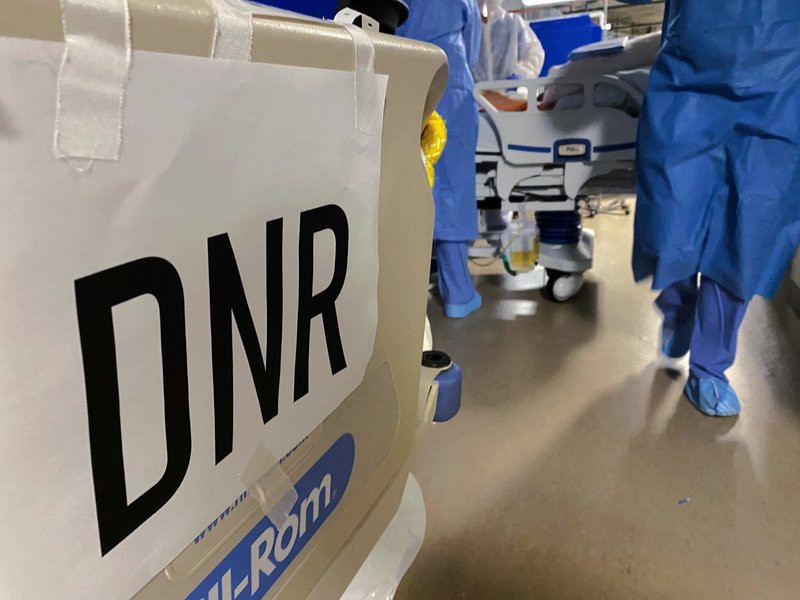 No words, but says so much.
---
Part of the employees' responsibilities include communicating with family members about their loved one, which is challenging because of both the workload and also ongoing sentiments and misinformation about COVID.
"A lot of people still do not believe that COVID is real," says Northrup. "They're frustrated because they can't come see their family member, and they're frustrated about the circumstances."
In one spot, an elderly husband and wife lie in beds side-by-side. In contrast, a 20-something man nearby no longer needs the level of care provided in the tower, but there aren't enough staff and space to move him elsewhere.
Across the room, a woman in her 60s flails in delirium, brought on by lack of oxygen. Her condition becomes increasingly worse throughout the day. Her rapid decline is so great that staff believe she must be intubated, a process in which tubes are inserted into her throat, to facilitate breathing and help her stay alive.
While they wait for the doctor to arrive, she remains out of touch with reality, despite the fact that she is being given high amounts of oxygen through a BiPap mask, which helps push the flow into her lungs.
"She's not getting enough oxygen to her brain, so her mental status is completely altered," says a health care worker. "We see that primarily with all the COVID patients. When they get to a certain (oxygen) level, they don't know what's going on. They're just ripping everything off because they're panicked."
The worker shares that, from his view, there is a component of COVID that also affects people's brains, pointing to mild impacts such as losing taste and smell after some do when contracting the virus.
"There's a decent neuro component to the old COVID," he says. "I'm really nervous to see what they think long-term after this has all been studied for a while to see what it's doing. There are still people, the long-term carriers, who are like foggy as hell months and months later."
Another health care worker strokes the woman's forehead, trying to offer comfort. The doctor arrives: Yes, intubation is the best hope for recovery. They quickly pull more of those blue dividers around her bed and hope the effort will save her life.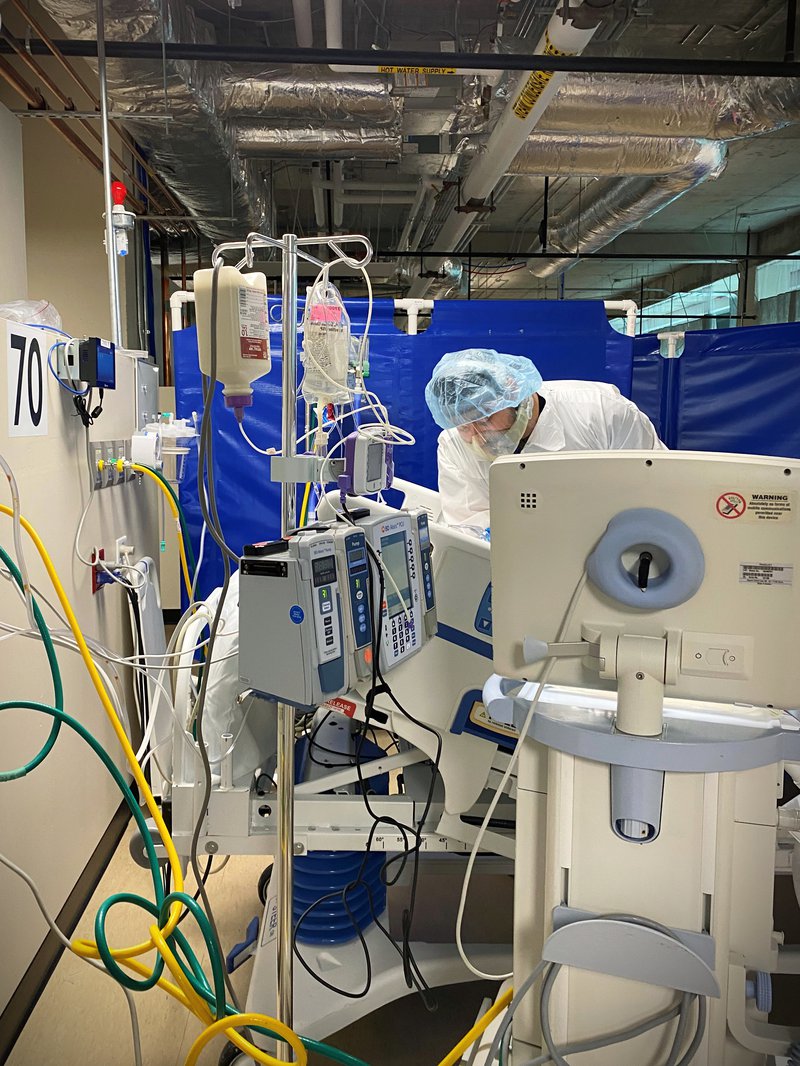 A health care worker comforts a COVID patient in the unit.
---
The devastating scene stands in contrast to a collective moment of hope earlier in the year. After nearly a year of ongoing hospitalizations for COVID-19 at CoxHealth, and reaching a high watermark of 170 patients over the winter, the West Tower unit was closed in February 2021.
Although some COVID patients remained in other parts of the health system, the moment was symbolic for the community.
It came nearly a year after the unit's construction was announced. The space was built in just two weeks with a sense of great urgency to ensure the health system was prepared to serve patients. Health system representatives said numerous times that they hoped its 51 beds would never be used -- and they weren't, until July 2020, when rising numbers of cases forced it to open.
The unit remained open through the arrival of COVID vaccines, which became available to CoxHealth employees in December 2020. The evening the first doses were given, there was such an air of anticipation and celebration that one doctor wore an elf's costume.
"I got my first dose on Christmas Eve. I know a lot of us, within the first few weeks, really threw caution to the wind and got it, hoping that things would start to get better," says Northrup. "And it did."
As vaccines rolled out through the community, hospitalizations dramatically decreased.
Less than two months later, two staff members jubilantly lifted their arms in the empty unit for a photo that later went viral. National news stories were done. A stack of stethoscopes hung in the unit, empty except for the beds where patients once lay.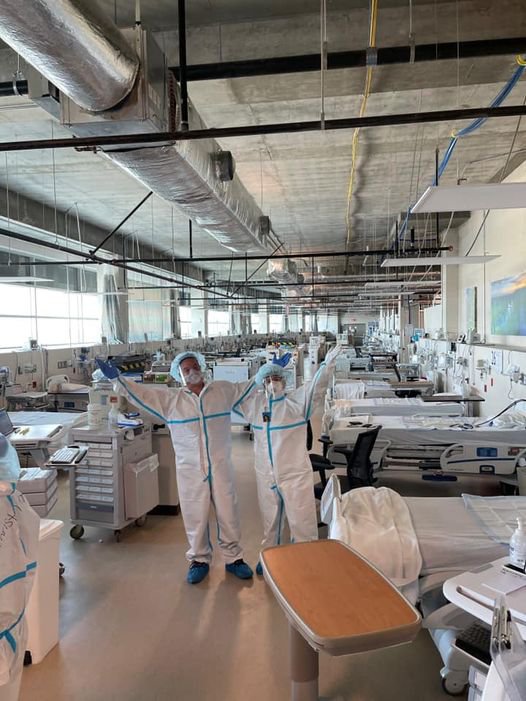 In February 2021, a celebratory moment: When the unit was empty for the first time since it opened in July 2020.
---
With the delta variant's arrival and locally low vaccination rates, it was a fleeting moment of joy.
"I think that, no matter what, we were going to have some kind of surge with the delta variant," says Bailey Jerome, a nurse in the COVID unit, beads of sweat across her forehead as pauses from her duties. "But with people not social distancing right now, not masking and not getting the vaccine, it's just making it that much harder on us."
She is in an expansion of the original open unit, which increased its capacity by 33 beds in December 2020. Earlier that day, at least 16 more patients were added there.
"This is something we never thought we would have to use," she says of the expansion.
But despite the fact that there are COVID patients who need hospitalization, other beds remain empty.
The reason they are not in the unit -- or may be sent to hospitals across the state or country -- is because of staffing. During the previous surge, around 280 traveling staff were on hand to help. When cases went away, so did those individuals.
CoxHealth is now aggressively working to hire more staff locally, as well as recruit more travelers. As a result, help is on the way: By the end of next month, around 280 traveling staff will be back on-site to help fill in gaps, most dedicated to COVID patients.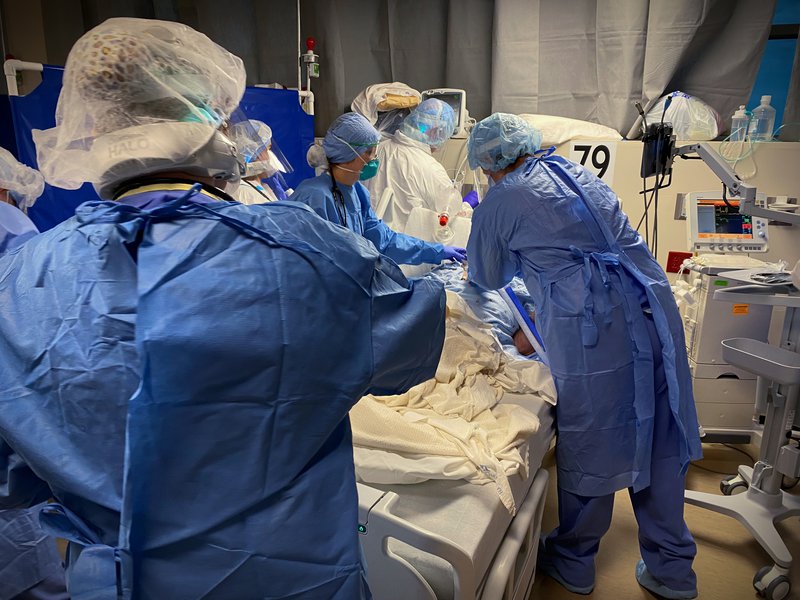 Staff work together to serve a COVID patient.
---
"They're coming, we know they are, but we just don't have them yet," says Jerome of the travelers. "So right now we're just struggling with nurses and trying to get by until you have extra staff."
Looking back, Jerome didn't expect to be in the middle of a war against COVID when she became a nurse in 2019.
"I was a nurse little less than a year when COVID hit. Med-Surg cardiac is what my home specialty is, but at this point, I've been a COVID nurse longer than I've been a cardiac nurse," she says.
Jerome also notes that due to her age -- 24 -- and good health, she was led to work with COVID patients given that others in her unit were at higher risk for severe complications if they contracted the virus. However, her desire to help went deeper than those facts.
"I felt called to just be able to come and do this. It was like God saying, 'You need to be able to help these patients.' Every day I feel blessed to be able to impact their lives," she says, sharing a calling tinged with great pain.
"It just tears me apart inside when I go home at night knowing that the next day they might not be there."
Atkinson shares a similar sentiment.
"We do our absolute best to save every single person we can," he says. "But every day working with COVID and post-COVID is like trying to hold onto fistfuls of sand. Always working, and constantly watching them slip through our fingers."
Projections indicate that cases will continue to rise for the next few weeks. Counties in the Ozarks see low vaccination rates, with many hovering between 20 and 30 percent. One of the highest locally is Greene County, which comes in at approximately 40 percent.
If the day comes that cases decrease significantly and sustain, it's an assumption that most will feel joy. The COVID staff will be hopeful, too. They were, after all, when cases went down earlier this year.
Despite that hope, Northrup also speaks of another emotion she felt back then.
"I have never had depression growing up, but to be honest with you, for the short amount of time that the tower was closed and we thought things were better, I instantly was in a depressive state," she says. "I know a lot of the nurses have sought out counseling. I personally probably need to, but I don't have the time to."
Health care workers are prepared for death, but the unanticipated high levels in light of COVID is difficult for some -- especially when "exhausted, overwhelmed and overworked" are words shared when describing the current situation.
"I haven't done my laundry for two weeks or done my dishes, but it's better than someone who has three kids and a husband," says Irwin. "I think we'd both rather work two extra shifts a week, or five nights a week or six nights a week, so that somebody with kids can stay home."
How the pandemic will affect health care into the future has yet to be seen. But in the meantime, multiple COVID staff members point to vaccination as a way out -- especially based on the reality they've seen firsthand.
"I can't tell them to do anything because it's their life," says nurse Jerome. "But I have seen that the vaccine has helped patients, so what's the harm in getting it if it's between the risk of a vaccine or the risk of losing your life? That's all there really is to it."