Posted by Randy Berger on May 17, 2017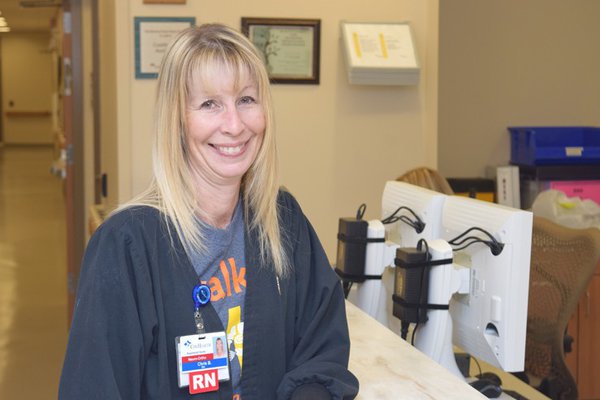 The chance to improve a life through your daily work.
That's a huge driver for the caregivers who have built their careers at CoxHealth. During our 2017 Employee Recognition Banquet, we caught up with a few of this year's honorees and asked them about why they love the work they do. Below is one of those stories.

Chris Baker 
800 Neuro, Cox South, 24 years
Chris Baker says a traumatic experience at a young age helped to shape her future as a caregiver.
At age 5, she was in a car accident with her mom, a cousin and her younger sister. The car rolled onto its top, but Chris got free and followed her mom's instructions in caring for her sister and cousin. Her sister was unresponsive and Chris recalls clearly the ride in the ambulance.
"All the way to the hospital, I was trying to wake my sister up," she says. "She had a severe concussion. I remember talking to her, telling her that Big Bird was here to see her – just telling her everything I could think of to get her to wake up."
At other times in her life, when someone was in pain, Chris was there to make things right.
"Maybe I was born with it," says Chris. "It's almost been second nature to me, my whole life. My sister is two years younger than me. She'd skin a knee and I'd be the one to scoop her up and go take care of her."
Her grandmother was a nurse and when she was 18, Chris rode along with friends who were volunteer firefighters, which sparked her interest in EMS and led to her first job in health care. She went to nursing school, graduating in 2010 and has worked with neuro patients on 800 at Cox South.
"On our unit, we're fluid and we help each other. That's the biggest thing about working here, everyone works together," says Chris. "People ask if you're OK if you're having a bad day, and they cheer you on on a good day. And Cox supports their employees for education and to better yourself – that's the culture here – education and support. It's a great place to work and grow and spread your wings."
The same passion she developed at a young age is still fueling her desire to help people in need.
"To know that you eased someone's pain, that you felt like you made a difference for someone, made them more comfortable, repositioning them or listening to them. Those sound like simple things, but they're not simple if you're lying in the bed," says Chris. "My personal goal is that all my patients need to smile at least once during my shift. If I leave and they've smiled, I've done my job."