Posted by Randy Berger on Sept. 1, 2020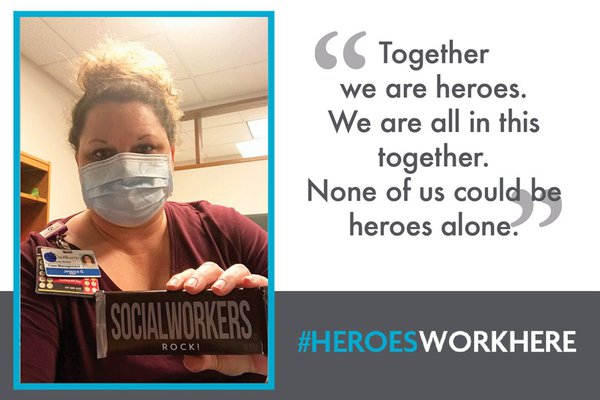 '

I HAVE A SENSE OF PRIDE WHEN I GET TO HELP PEOPLE'

Jessica Green, Case Management

Social workers are on the front lines of the human challenges caused by COVID-19. 

Jessica Green says Case Management's role with patients, and colleagues, has been elevated with the high stakes of the last few months.   

"Life was hard before COVID-19 for a lot of people. Now, life is harder. People have lost jobs, and it has created insecurity," she says.  

Supporting patients and their families is more important than ever.

Visitor restrictions and safety precautions have changed the workflow of social work.

"Instead of mostly face to face, we are talking to patients over the phone," Green says. "We prefer face to face, but we are up for the challenge and creating ways to make this work as well.  

"Patients are social and it can be stressful when they aren't allowed much time with family members. When we call, we spend time asking everyone how they are doing and how they are holding up." 

Green says she and her team are adapting to the fact that pressure and stress are coming from many different directions. They see it in their patients, and in their colleagues.

"Patients, coworkers and doctors are in survival mode," Green says. "It is a changing environment, but everywhere I look, I see a lot of people supporting each other."

Green says her department has a prayer group each morning, where they pray for patients and the caregivers who are giving more than ever.

"If we see doctors or nurses who are stressed, we remind them: 'Don't forget about self-care,'" she says.  "Just taking a break and walking around the building can make a difference."

She feels for the nurses and staff who are working exhausting shifts caring for patients.

She takes pride in the way we care for one another, whether it is a case manager bringing in meals and drinks for nurses or Pastoral Care arriving in a unit with a cart full of hot coffee and snacks.

"It spreads some uplifting spirit," she says. "That is a big deal to me. We have to take care of one another."

Like so many people in health care, Green says the chance to help others was what drove her to health care social work to begin with.

"I have a sense of pride when I get to help people," she says. "And, it helps to come to an organization that supports us. I am very appreciate of everything leadership has done to make sure CoxHealth employees have jobs. CoxHealth is loyal to me as an individual and I am loyal to CoxHealth.

"I definitely don't consider myself a hero. I'm a normal person living life. Together we are heroes. We are all in this together. None of us could be heroes alone."