Posted by Randy Berger on Dec. 10, 2020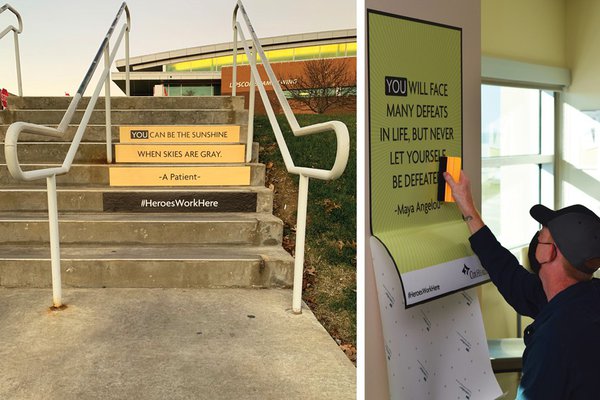 "Healthcare Heroes" is a phrase that's been repeated many times these past months, and it's something that applies to every member of the CoxHealth family.
Since the pandemic began, all of our team members have contributed to the very important work we're doing to care for our community. 
In recognition, over the coming days and weeks please watch for our new internal #HeroesWorkHere campaign, centered on our heroic employees.
The first #HeroesWorkHere signs and banners were installed at Cox South on Wednesday. Install teams are currently working their way through adding the banners at all six hospitals.
As our teams continue to do important work and prepare for what lies ahead, we wanted to provide an expression of our thanks, plus encouragement for when times are hard. The campaign includes powerful and inspiring quotes from CoxHealth leaders and famous individuals, presented in unique ways.
CoxHealth leaders who would like to express their appreciation to their teams during this time can order campaign-themed thank you notes from Printing-Services, CPS #0012.11.