Posted by Janell Patton on Sept. 14, 2018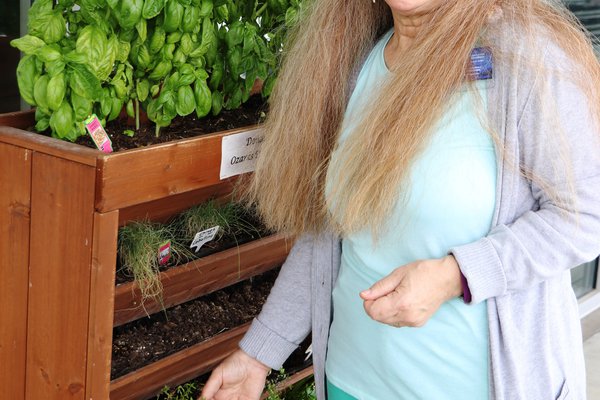 Have you have ever driven by Ozarks Dialysis Services (ODS) on Hwy. 60 in Monett and wondered what the wooden planter was to the right of the front doors?
"It's a four-foot vertical herb garden for our dialysis patients and their families," said Susan Hodge, registered dietitian at Ozarks Dialysis Services in Springfield and Monett. "We plant all types of fresh herbs in it in May that will last through September or so."
Hodge learned about the benefits of building an herb garden from a co-worker who attended a National Kidney Foundation Conference. Hodge loved the idea, and decided to roll it out starting with the outpatient dialysis unit in Springfield about four years ago, and eventually adding one to the Monett location. 
"We want to provide our patients with the education and tools to make good choices on what foods to eat and foods to avoid," says Hodge. "Patients on dialysis need to limit their salt intake, so herbs are the perfect choice for adding flavor into their diets — and our little herb garden makes it easy for them to do that."
Hodge provides new patients with an "introduction to herbs" packet, which lists all the herbs available in the garden and recipes to help them get started. There is also an informational sheet that instructs patients on how to harvest and store the herbs. Currently, there are 11 herbs planted in the garden.
"The favorite herb of our patients and the first one to be picked is cilantro because it's such a flavorful herb and you can do so much with it," said Hodge. "This year I cut back on planting mint and added more cilantro." 
Ozarks Dialysis Services in Monett was recently awarded the prestigious five-star rating from the Centers for Medicare and Medicaid Services for patient data and quality health outcomes. 
Hodge admits the little herb gardens in Monett and Springfield were planted with a lot of love because patients at ODS are treated like family, and she feels in some little way, that helped to contribute to the five-star rating. 
"Our little gardens are about to come to an end for the season now, but we'll be ready to go next May with more fresh herbs to help our patients live their best lives," she added.