Posted by Janell Patton on Sept. 15, 2020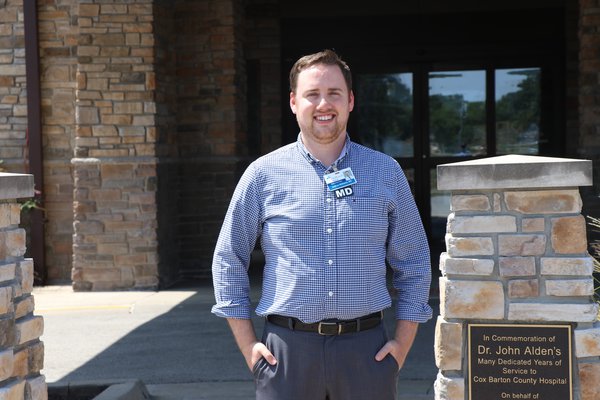 Dr. Williams is currently splitting his time between the Medical One Clinic, where he sees patients two days a week, and as a hospitalist (inpatient physician) on the Medical-Surgical unit.
Since he's new to our community, we thought it would be fun to get to know him a little more…
What's your favorite movie? Elf or The Great Gatsby
What's your favorite candy? Hershey's Cookies and Cream candy bars
What was the last song you listened to? Beautiful Day by U2
What was the last book you read? The Fountainhead by Ayn Rand
What's your favorite color?  Green (the color of grass in the spring)

What's your favorite food? Chicken bowl at Chipotle
Do you watch sports?  If so, what is your favorite team? I follow the KC Chiefs and KC Royals
Do you play an instrument? Guitar, piano and I used to play saxophone
Which TV sitcom would you star in if given the chance? Parks and Recreation
How would your friends describe you?  I'm dependable, hardworking, easy-going, and I like to do activities. I'm pretty much up for anything.  

What is your favorite quote? "In any given moment we have two options: to step forward into growth or step back into safety." ~ Abaham Maslow
What is the most memorable experience you had when you were little? My family would often travel from Minnesota to Oklahoma to see my uncle.  One time we stopped in Carthage to visit the Precious Moments Chapel, then we went on to Lamar to see the birthplace of Harry S. Truman.  
Welcome to Cox Barton County, Dr. Williams!