Posted on April 30, 2021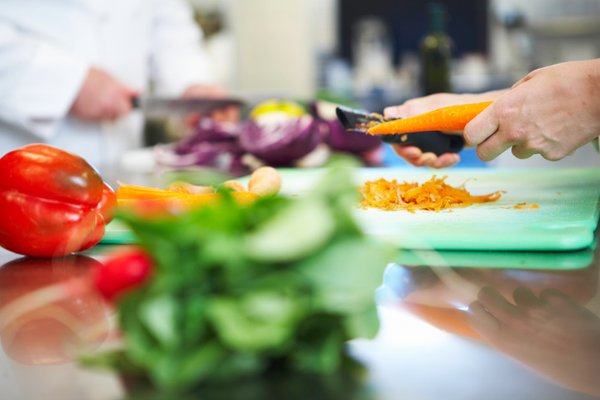 In recent years, plant-based diets -- in which people consume foods primarily from plants -- have grown in popularity. While plant-based diets can offer benefits, it's important to be conscious that when you give up meat or other animal products, you may be giving up good sources of vitamins and minerals. Most vitamins and minerals are still easy to get, but there are a few that require attention. For example, Vitamin B12, zinc, selenium, and calcium require careful planning in your plant-based diet.
Keep reading to learn more about each of these vitamins and minerals.
Vitamin B12 is not produced by any plant, so having a supplement for this one is somewhat unavoidable. Taking a B12 supplement is crucial if you have few to no animal products in your diet. The RDA for B12 is 2.4 mcg/day.
An example of how to get Vitamin B12 through food is via soy milk, which has 3 mcg/cup. Keep in mind that not all soy milks are created equal and not all will have B12 in them. Read the nutrition label if you are relying on fortified food products for your B12 intake.
Zinc is a mineral that is important for immune function, skin health, and fighting infections. The RDA for zinc is 11 mg/day for men, and 8 mg/day for women.
Zinc is largely found in seafood and other meats, but does occur in some plant foods. Beans and whole grains can be good sources of zinc. The best way to cook beans (and get the most zinc out of them) is to pressure cook the beans with the water they were soaked in. If you don't have a pressure cooker, still cook them on the stovetop with the water they soaked in.
Calcium is most often found in dairy foods (milks, cheeses, etc.) but is available from plants as well. The RDA for calcium is 1,000 mg a day. Calcium is important for bone health, and low calcium intake can contribute to developing osteoporosis later in life if not eaten regularly.
Selenium is an essential trace element that is a part of some enzymes and proteins. The RDA is 55 mg.
Selenium is present in many foods like meat, seafood, dairy, and grains. Unlike some of the other nutrients, selenium can be a very easily consumed. Brazil nuts are incredibly high in selenium, having 90 mg in just one Brazil nut, almost twice the RDA. Brazil nuts are often part of mixed nuts or can be bought in bulk on their own. The safe consumption level of Selenium is 400 mg, so do not eat a lot of Brazil nuts thinking more is better.
This information was prepared by Cox College dietetic interns Callie Rancourt and Catherine Robohn.
References:
Feitosa, S., Greiner, R., Meinhardt, A., Müller, A., Almeida, D., & Posten, C. (2018, July 31). Effect of traditional Household processes on IRON, zinc and copper bioaccessibility in black Bean (Phaseolus vulgaris L.). Retrieved April 10, 2021, from https://www.ncbi.nlm.nih.gov/pmc/articles/PMC6111528/
Gropper, S. S., Smith, J. L., & Carr, T. P. (2021). Advanced nutrition and human metabolism (Seventh ed.). Boston, MA: Cengage Learning.
Gupta, R., Gangoliya, S., & Singh, N. (2015, February). Reduction of phytic acid and enhancement of bioavailable micronutrients in food grains. Retrieved April 10, 2021, from https://www.ncbi.nlm.nih.gov/pmc/articles/PMC4325021/