Posted by Kaitlyn McConnell on Feb. 9, 2021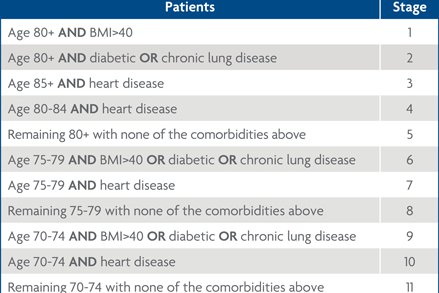 As we have now completed several COVID-19 community vaccination clinics in Springfield, Branson, Lamar and Monett, we wanted to share an update about where we stand with distribution.
Last week, we were given 5,700 doses of COVID-19 vaccine from the state. Thankfully, we have been able to get extra doses out of many of the vials of vaccine, which has added around 500 extra doses to our supply. To date, we have administered 5,200 doses, and the rest are scheduled to be given today in Springfield and Branson. All doses from this round have now been assigned.
So far, we have made it through Stage 5 in our vaccination distribution plan. Some patients in Stage 6 were contacted to register as well, but we had to stop before all were contacted because of vaccine supply. (A computer randomly chooses who in these stages is contacted to make it fair for everyone until the entire stage is open.)
We will soon continue reaching out to patients to schedule their vaccines as we expect another shipment of 5,700 from the state next week. Clinics for these vaccines will begin next week as well. If you or a loved one falls into one of the earlier stages, you are still able to register if you choose when vaccine is available. Just use the phone number or link you were originally sent.
A few other notes:
Vaccinations are given by appointment only. Please do not enter the building more than 10 minutes prior to your appointment, as it creates congestion. We will not run out of vaccine for those with scheduled appointments.


Please remember that we will reach out to you when it's time to schedule a vaccine. (If you feel you fall into Stage 5 and earlier, please send a message to us on Facebook for instructions on how to register.) We know there is a lot of concern about this process, but it is difficult for our providers to give care when there are many calls about vaccine distribution.


While we would like you to get this vaccine from us, please continue to sign up any place you have the option. Ultimately, the goal is to get vaccinations administered as quickly as possible to help keep patients safe.