Posted by Randy Berger on April 17, 2017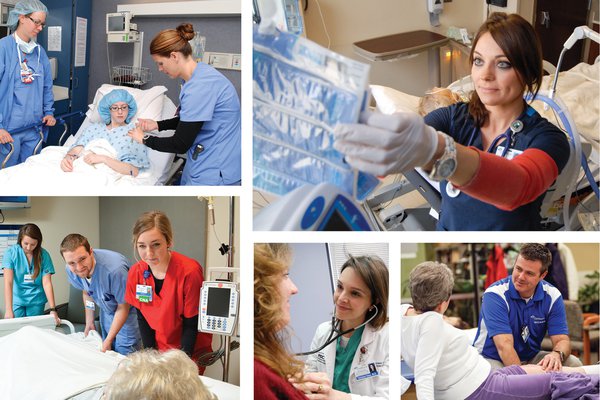 It's Employee Recognition Week at CoxHealth and we're celebrating all the team members who make CoxHealth an outstanding organization.
In this month's employee magazine, CoxHealth Connection, we sat down with Andy Hedgpeth for his thoughts:
As we prepare for the 2017 Employee Recognition Banquet on Thursday, April 20, Human Resources Vice President Andy Hedgpeth says it's an annual chance to take a step back and offer something we all value: recognition for a job well done.

"We're so fortunate to have long-term employees who want to make this their second home," he says, noting that over a career most of us will spend as much time here as with our families. "It's so cool to see people with decades of service. You don't often see that in other institutions. For people to want to stay in our culture speaks volumes about where we are as an organization." 
In recent years, CoxHealth leaders have made recognition a major part of our culture, and Hedgpeth says expanding recognition even further is a top priority.
"The hallmark of a great culture is recognizing what you do well and celebrating it," he says. "We've always budgeted for awards and recognition and we're amping that up going forward." 
The most recent cause for celebration: CoxHealth's recognition as Best Place to Work by 417 Magazine. The honor, which was announced in the February issue, is based on the votes of 417 readers across the region. 
"We were absolutely ecstatic to receive the award," Hedgpeth says. "It proved to us that people are noticing that we're committed to this community and to improving health. To see people in the community say, 'That's the place I want to work' – what an awesome thing to celebrate. It's great for recruitment and retention and for the overall morale of being able to say you're the best." 
Leaders recently recognized the distinction with a special gift: portable USB "power banks" for charging devices on the go, emblazoned with a "Best Place to Work" icon and the CoxHealth logo.  
"It's a small token, but I want everyone to know we get it, we realize that these honors would not be possible without all of you," Hedgpeth says. 
"Our mission directly impacts people's lives for the better. That's powerful. People know their work matters – if they're not on their game,  someone's life is at stake. That degree of seriousness brings out the consummate professional. We do it better than anyone else. Our employees see it and the community sees that as well." 
Hedgpeth points out that an industry like health care attracts type-A personalities who love to focus on what's wrong and try to fix it. If we're looking at a color-coded chart of performance measures and it's all green except for one, it's our nature to zero in the single problem in red and ask, "why is that?" It's a necessary approach when lives are at stake, but it can sometimes leave us glossing over everything that is right. 
"As an organization, we continue to get better purposefully. For every one thing that needs work, 99 other things are excellent and we have to recognize that. There is so much work and sweat equity that goes into making CoxHealth a great place to work and to get care. If you don't take time to celebrate those wins, you lose a step. We're focusing on how we can celebrate our wins this year."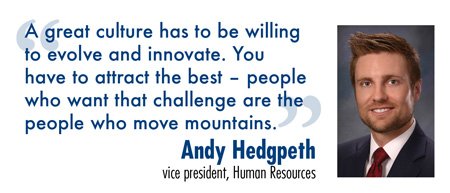 At this year's banquet, employees recognized for 40 or 45 years of service  will receive new trophies for display.
Meanwhile, Human Resources is in the process of rolling out a new recognition program that allows employees to accumulate points and redeem them for gifts throughout the year. 
"We care about and value our staff, providers and volunteers, and we know we need to take care of our workforce first for them to take care of patients," Hedgpeth says. "We're all in the business of taking care of people." 
Throughout the organization, the recognition is well-deserved, and it's key to maintaining CoxHealth's status as an employer of choice.
"Everyone here represents the best of the best," Hedgpeth says. "Each year, 45,000 people apply and we hire about 2,000. We're great because of the diverse backgrounds and viewpoints everyone brings. None of this would be possible without our dedicated and talented workforce."
Being the best
So what makes CoxHealth the best? Hedgpeth says there are lots of points that set us apart:
Commitment to employees: Hedgpeth points out that CoxHealth is partnering with employees to make their work, and their lives, better, through programs such as Healthy Living.
Innovation: "We're on the cutting edge of what any health system in the nation is doing. We're mentioned alongside the best institutions in the nation in terms of population health."

Commitment to growth: "We're proactive with bringing new hires into our culture. And we've launched efforts like the international nursing program, which shows a commitment to diversity and improving our community."