Posted by Randy Berger on April 20, 2017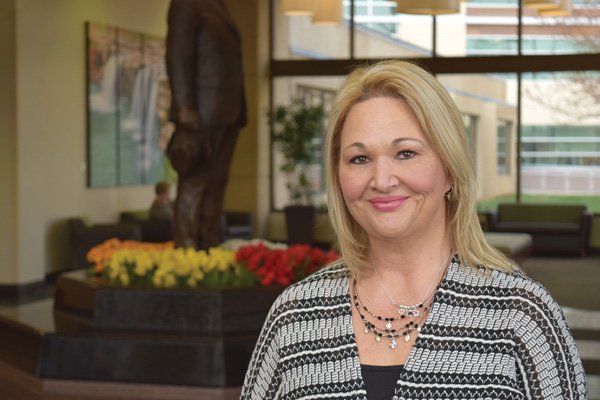 The chance to improve a life through your daily work.
That's a huge driver for the caregivers who have built their careers at CoxHealth. As we get ready for the 2017 Employee Recognition Banquet, we caught up with a few of this year's honorees and asked them about why they love the work they do. Below is one of those stories.
Julia Robinson,
Surgical Services, MORH, 20 years
For the last 13 years, Julia Robinson has had "the best job in the OR." As a surgical tech, she works with orthopedic surgeons and a full surgery team, all focused on one goal: the best outcome for their patient.

"We do hips, knees, shoulders, ACLs on athletes – we transform people's lives every day," she says.

Making an impact is something Julia has always wanted. As a child, she looked up to nurses and wanted to be one herself someday. She married young and took the first job she could get. She worked in retail for several years, but health care was always in the back of her mind.

Then, her husband became ill. Before they knew it, they were fighting a battle against cancer.

"I watched caregivers in a hospital setting – the most amazing caregivers," she says. "They cared for him and they cared for me. I saw firsthand what caregivers do for patients and their families."

Julia eventually lost her husband to cancer. The experience solidified her desire to work in health care, in any capacity.

"I needed to nurture. I wanted to give patients and their families the comfort that I had received," she says.

She began working as a cashier at Ferrell-Duncan Clinic, and she worked a variety of clerical jobs until one day general surgeon Dr. Daniel Cardwell suggested that she might enjoy working as a surgical tech.
She had seen a few procedures during another role at a plastic surgery clinic and she knew she was interested in working with patients. Julia took Dr. Cardwell's advice and started looking for surgical tech programs. She began studying at OTC, while working full-time at various CoxHealth jobs that fit her schedule.

"CoxHealth was so good to work with me and support me as I wanted to learn and grow," she says. She took advantage of tuition reimbursement and soon she was ready to become a surgical tech. "I really felt like CoxHealth was backing me with money to better myself."

Now, Julia says one of her favorite things is working with new surgical techs, who are learning the ropes just like she did. She loves seeing them start their careers, and she's quick to remind them to take advantage of everything CoxHealth has to offer. 

"There's always advancement – believe in yourself and look for it. You'll find there are people who will support you and back you. I've had a lot of managers who were willing to give me a shot. Without taking those opportunities, you don't know what you're capable of."