Posted by Randy Berger on May 17, 2017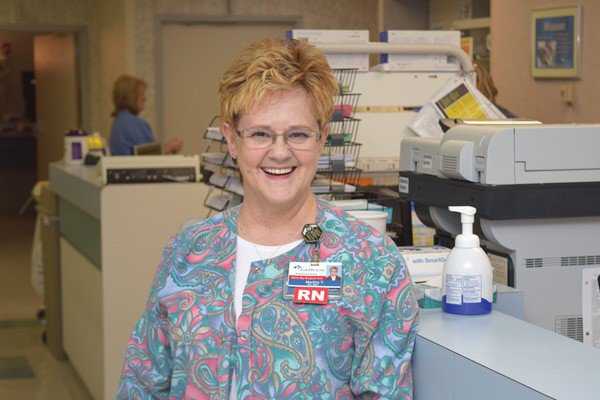 The chance to improve a life through your daily work.
That's a huge driver for the caregivers who have built their careers at CoxHealth. During our 2017 Employee Recognition Banquet, we caught up with a few of this year's honorees and asked them about why they love the work they do. Below is one of those stories.

Martha Thomas,
Same Day Surgery, Cox South,
47 years
When Martha Thomas was 5, she traveled with her mother by train to visit an aunt in Denver. Her aunt was a nurse and she took young Martha on a tour of the hospital. In the Pediatrics department, staff members gave Martha a stuffed rabbit to take home. 
"I'll never forget it, I kept that bunny rabbit forever!" she recalls. "That was what made me start thinking about being a nurse. Back home, I'd play with my dolls and I gave them shots with safety pins, because mom wouldn't let me have a straight pin." 
By high school she was focusing her classes on what she would need to get into nursing school. Martha was a 1969 Burge Nursing School graduate who began her career in the Recovery Room and on Surgery units. She opened the chronic dialysis unit in 1971. She eventually managed Same Day Surgery and Endoscopy at Cox North.
A few years ago, she retired for about six months but decided to return to work because she missed the people.
"When you've been a nurse for so long, it's a part of your identity. I wanted to be a nurse again."
Martha loves every part of nursing and especially likes her work in Same Day Surgery, where she is able to provide comfort to patients who may be scared before a procedure.
"When you go into a room, just to be able to smile at them, talk to them and alleviate part of their fears is very, very fulfilling. I've had people thank me for helping them, for answering questions and for helping them understand things."
She also enjoys learning from her colleagues and sharing what's she's learned over the years. Martha says she's amazed that CoxHealth helped pay for her bachelor's and master's degrees so she could advance in her career. 
"CoxHealth gives you opportunities for growth and they're there to support you, through good times and tough times, in your career and your life. Everyone is so supportive. This is a large, extended family and everyone is there to support you."
Martha's advice for her colleagues in nursing for a long and successful career is simple. "If this is something you love to do, find the area of nursing that fulfills you and makes you feel like – I was needed today, I made a difference today. I love going home knowing I made a difference in someone's life. Whether it was getting an IV in with no difficulty, or just comforting them. People need to know and need to feel that they're making a difference."