Posted on Aug. 30, 2019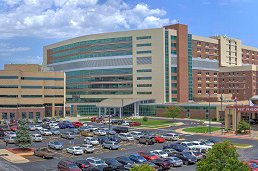 Ceremony for $12 million utility plant at Cox Branson
A Topping Out Ceremony was held this week to officially dedicate the new $12 million Central Utility Plant on the campus of Cox Medical Center Branson. The plant will help the campus operate more efficiently and allow for expansion.  
U.S. Representative visits Cox South
U.S. Congresswoman Vicky Hartzler from Missouri's fourth congressional district visited Cox South Hospital this week to offer support and learn about the effects of the opioid crisis, improving rural healthcare access and our telehealth in schools program.  
CoxHealth Multicultural and Inclusion Day
The third annual CoxHealth Multicultural and Inclusion Day will be held September 19, 8 a.m. – 4:30 p.m. in Cox South Foster Auditorium. This day will feature valuable information about sustaining an organizational culture that values diversity among patients, families and our employees.  
Cox College hits enrollment record
The fall semester enrollment at Cox College of 954 students is an all-time record high. Additionally, our spring 2019 ASN graduates had a 100% pass rate on the national NCLEX nursing exam.  
CMN Hospitals campaign partners with firefighters
Our children's charity, Children's Miracle Network Hospitals at CoxHealth, has developed a new Firefighters for Kids fundraising campaign. Fourteen fire departments have already signed up to participate and the list is expected to grow over the coming months. The Marshfield Fire Department recently held its first 'bucket brigade' at one intersection in town to collect money from drivers as they passed by, and raised more than $5,200 for local children with medical needs.
MSU, Drury baseball game benefits CoxHealth ALS Clinic
The fourth annual 'Battle for Bell' event between Drury University and Missouri State University baseball teams will be held Saturday, Sept. 21. The nine-inning exhibition game begins with the first pitch at 6:30 p.m. at the U.S. Baseball Park in Ozark, and benefits the CoxHealth ALS Clinic, which provides coordinated care and support to ALS patients in the region.

CoxHealth in the news
KTTS, KOLR-10 and Ozarks Independent covered CoxHealth's new urgent care in Springfield, set to open in October.

Springfield Business Journal shared information about three $1 million gifts made to the Cox Monett Momentum Campaign.

Physicians who recently joined CoxHealth were published in the Springfield Business Journal.

KY3/KSPR interviewed Noel Leif, the director of the Springfield Center for Dyslexia and Learning housed on the Cox South campus, for a story about dyslexia.
Voice of the patient
From a patient at CoxHealth Center for Addictions: "I cannot praise the staff, counselors and medical professionals enough for their professionalism and genuine care throughout my treatment program. My decision to seek help from this program was life changing and I leave with a clear focus and extreme sense of HOPE. Thank you!"
Thank you for everything you do to support our patients and our community,
Steve