Posted by Janell Patton on May 14, 2020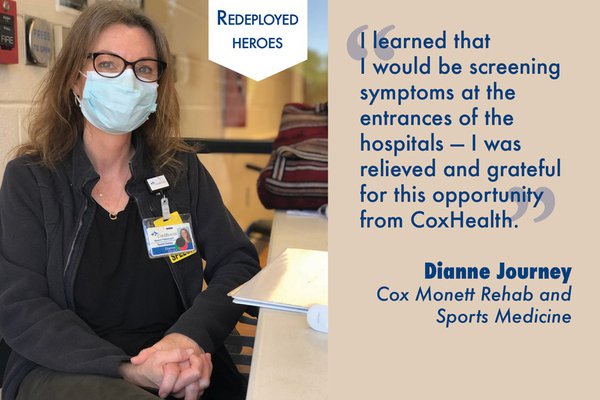 In the wake of COVID-19, CoxHealth's Human Resources team has focused on reassigning staffers from areas temporarily closed by the crisis. We are sharing a few stories of those staff members in our "Redeployed Heroes" series.
Life led Dianne Journey to work at Cox Monett Rehab and Sports Medicine a little over five years ago. On Monday, March 16, Journey, a speech pathologist, received word that the Barry Lawrence County Developmental Center, as well as the preschool where she worked, were both set to close due to the coronavirus.  
That same evening, Journey received an email from the Missouri First Steps program, that they were suspending all therapy visits. Within a matter of hours, she was left with no caseload. That night she went to bed worried, but in the back of her mind, she knew everything would somehow be OK.   
"The very next day, my amazing boss, Kevin Norris, explained to me that the hospital was in the process of creating positions for those of us who needed hours," she said. "I learned that I would be screening symptoms at the entrances of the hospitals — I was relieved and grateful for this opportunity from CoxHealth."
A temporary, flexible role
Norris led Journey through the process of signing up to work as a symptom-check screener. As the sole provider for her 16-year-old son, she realized quickly that this new role would allow her to be able to pay her rent and purchase the essentials. This new opportunity also meant that she could find a way to contribute (or give back) to help others during this difficult time.
"This all worked out exceptionally well for me because my son was scheduled to have surgery and I was able to be with him during and after it," she said. "This would not have been an option with my regular job. The flexibility of this new role allowed me to be with him during the hours I felt were most necessary, and to that, I am once again grateful."
A crisis brings people closer
Since the beginning, Journey has picked up work at the various CoxHealth facilities as a screener.
"Many of the people I worked screenings with shared their own unique stories and struggles through all of this," she said. "I have stories from nearly each day that I have worked through this pandemic. With patients and visitors, sometimes my heart would break with their tears. Sometimes my heart would smile with their kind words or acts of love. Sometimes I was left shocked and speechless."
Journey admits that she has been completely out of her element through this process, but in this strange and new world, has felt a sense of peace, which she credits to the Monett community.
As the weeks have now turned into months, Journey has worked all shifts in many of the various entrances in Springfield, as well as Cox Monett ER and Cox Rehab. She spends most of her time at Cox Monett and says there seems to be a generalized inclusiveness bringing everyone closer together. More conversations, more checking on each other, more taking care of each other, more helping each other.
Here are a few examples: 
Kevin Norris put a virtual protective arm around us offering reassurance that he would do his best to help his employees manage through this difficult time. His regularly calls, texts, emails, checks on us, helping to schedule hours, offering shifts as they become available, guiding us, making recommendations/suggestions, keeping us all up-to-date on the daily/hourly changes. He has most definitely gone above and beyond to help all of us. 
Sheila Moreland, registration specialist, covered part of a screening shift for me one day when I was having a particularly hard moment and needed a breath of fresh air. She took care of so many things for me during this COVID-19 time. She became the first person I would call when I needed help. Without fail, she was always kind and helpful. She also made beautifully crafted masks for all in our department, made even more special as she hand-delivered them with a smile.
Dan Schmutz, athletic trainer, often worked alternating screening shifts with me. He always took the time to check on me, making sure everything was OK and to see if I needed anything when he was leaving. One night he came in early for his shift because a bad storm was coming in and knowing I had an hour drive home, encouraged me to get on the road and try to stay ahead of the storm.
Rob Azelton, another athletic trainer, has kept us up-to-date on the parameters of the ever-changing screening protocol and frequently checked on fellow screeners as well.
Public Safety, we can't forget about them. They have been so very helpful.
A security guard stepped in to let me know we were expecting very bad storms. He said he would be right behind me monitoring the progress of the storm, but told me to be ready to step inside the hospital.  

A man who was in bad shape shoved passed me to go into the ER. I had the radio in my hand and called Security for help. They were there within minutes.

One day, I allowed a young man into the ER. I noticed suddenly Security was right behind me. He talked to this patient and proceeded to remove multiple weapons off his body. I had no idea. I am grateful for their experience.
Over time, Journey said she started to recognize the faces of employees coming through the doors. "There are several that every single time they arrive, they have a smile," she said. "These quickly have become my favorites because I smile as they arrive, knowing they are smiling, too. They have made moments better just by being themselves."