Posted by Randy Berger on Dec. 13, 2016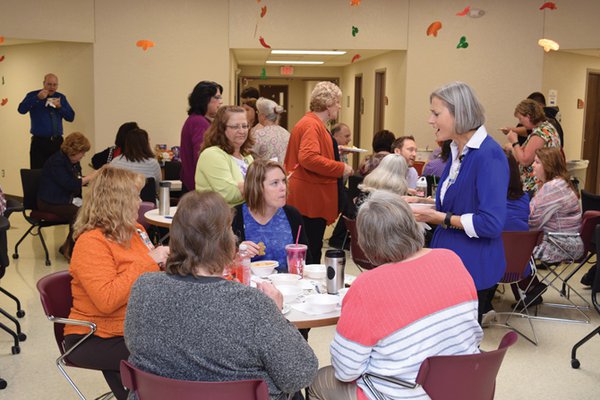 Across the street from Cox South, a new community of employees has come together in the former Primrose Place nursing home, which is finding new life as a hub for support departments at CoxHealth.

You could see the community in action in mid-October, when teams from a variety of recently relocated departments gathered to kick off fall with a chili cookoff. What had once been the center of a long-term care facility was transformed into a common dining area. Teams from departments such as Audit and Compliance, Si3, Patient Safety and Central Access, mingled in the new space, taking a break from their work in the newly built offices that line each hall of the facility.

The Primrose Building is in the middle of a major renovation project, converting the six wings of the former care facility into custom office space for a variety of departments. When the project is complete, the building will be home to more than 400 CoxHealth staff members.

Currently, more than 200 employees have settled into the three renovated wings. Each area has been custom designed to the departments' specifications, with offices, cubicles, meeting rooms and collaboration spaces.

Grey Thomas, senior project manager in Engineering, says the three remaining wings will be renovated as leaders decide which teams would be the best fit for the space.

Many of the teams have relocated from the Cox North campus, particularly in the Medical Tower. The move brings them closer to work at Cox South and it frees up space that can be rented in the Medical Tower.

The Primrose Building has a total of 48,000 square feet and is equipped with all-new heating and air, electrical connections and plumbing. Galleys in the halls provide access to refrigerators and microwaves and work is underway on a custom vending area that will offer salads, sandwiches and other foods with the swipe of a badge or credit card.

Outside, the building has undergone an exterior renovation with new roofing and guttering as well as the beginnings of landscaping projects that will continue in the spring.