Posted on March 12, 2021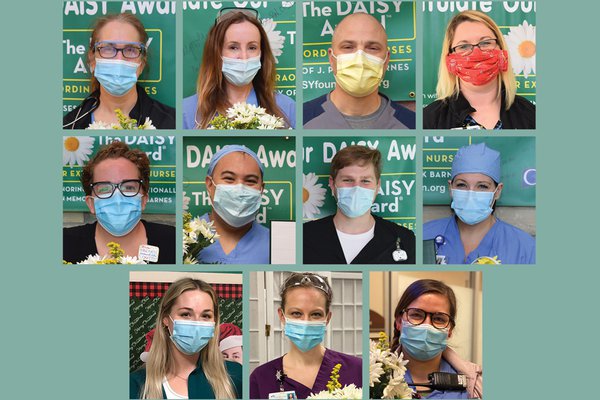 The DAISY Award for Extraordinary Nurses is presented in medical facilities throughout the United States to recognize the education, training, skill and compassionate care nurses provide. Patients, their friends and families, co-workers, physicians and volunteers may nominate a nurse for the award.
CoxHealth regularly recognizes nurses who have provided outstanding care with DAISY Awards. Here are the most recent honorees from our Springfield and Branson campuses:
Springfield
Karen Bargas, CVICU 
Karen was nominated by two of her colleagues for the care she provided to a patient who had been in the unit for two months. She took the time to take the patient outside for fresh air and sunshine.
"It was no easy trip, as this patient has two wound vacs, IV poles, a trach and multiple other tubes," her colleagues wrote. "Despite all this, Karen made it happen! She works so hard for her patients and does not miss a moment to teach, encourage and motivate them. Her compassion and advocacy for her patients is one of a kind. She inspires us all to be better at the bedside!"
Zoe Welschmeyer, NTICU 
A patient's family member nominated Zoe for the extra care she provided for a patient who had suffered a major stroke.
"It was very difficult for my family to process my mother's diagnosis. I called in the middle of the night so worried, but Zoe was so reassuring on the phone," the patient's family member wrote. "I told her how much it meant to me to be able to come in and care for my mother. I was wanting to come in and paint my mother's nails. Zoe brought in nail polish and left it at the bedside for me. It was my mother's favorite color – deep fire engine red. 
"Thank you, Zoe, for being a listening ear for me and showing such love and compassion for my mother."
Craig Jones, Outpatient Oncology 
A colleague nominated Craig for the work he does daily with oncology patients.  
"Recently, we had a patient who went on hospice and Craig made time to go see her and her family to make sure they had what they needed. Craig was even listed in her obituary for the amazing care he provided to her while she was a patient with us," his colleague wrote. When new patients come into our clinic, they are usually nervous and scared, Craig takes the time to sit down with them on a personal level and explain each step of their treatment, what to expect and to ensure all of their questions are answered.  
"I can't even count the number of times I have heard a patient ask for Craig or have heard a story of something Craig did for them the last time they were here that really made a difference in their care. He is for sure a fan favorite of the patients in Outpatient Oncology."
Sara Hunter, NTICU 
Sara was nominated by a colleague for the kindness she showed to the family of a patient who was on comfort care. 
The patient's wife was distraught and wanted to be with her husband, but she had no transportation to the hospital.  
"Without thinking twice, Sara arranged for an Uber to pick up the patient's wife and bring her to the hospital," her colleague wrote. "Sara's caring and loving personality really shined through during this difficult and challenging time for the family."
Tobi Maahs, Transitional Care Unit, MORH 
A patient in TCU told Tobi that his phone was broken and he was concerned that he would be unable to buy a new one. The day before the patient was discharged, Tobi brought in a new phone for the patient. 
"Not only did she buy the new phone with her own money, she also took the time to navigate setting it up and transferring the patient's contacts over from his old one<" Tobi's colleague wrote. "The patient was extremely surprised and appreciative of the kindness Tobi displayed."
Crystal Rambaum, CCU/MICU 
A patient's fiance nominated Crystal after she went above and beyond to make a special day happen.  
"We were extremely scared and stressed out. My fiancé was in so much pain and Crystal was so attentive to all his needs. She gave me so much of her time to answer my questions and educate me on my fiancé's illness.  
"We had expressed that would like to have a wedding. Crystal, along with other nurses, coordinated a wedding for us in the Cox South chapel. They gave us a beautiful and touching moment we will never forget!" 
Billy Oxendine, CCU/MICU 
Billy was nominated by a family member who is also a nurse practitioner at another health care facility.  
The patient had terminal cancer and her condition was declining rapidly. The patient was young and had originally requested that all lifesaving measures be taken.  
Here is what the family member wrote: 
"When I arrived, I was given a full report by Billy informing me of everything he had tried to stabilize the patient. He was noticeably upset that he couldn't do more and was concerned at the thought of coding her.  
"When she continued to decline, he took it upon himself to get the family to come in. He then spent a lengthy amount of time counseling them and educating them on the patient's condition. He helped the patient make the decision to be a DNR.  
"Despite my offer to talk to the husband on the phone, Billy did this himself. I know how hard this is and I know the family appreciated his time and kindness. Billy did everything he could up until the end, continuing to provide excellent care and education to the patient and family. Billy is a magnificent nurse. Thank you for everything you do!"
Kyle Parsons and Ashly Newlon, Emergency Department South 
A patient's family member nominated Kyle and Ashly after they stepped in to help in an emergency in the parking lot.
The patient's wife had brought her husband to the south ED to be treated for breathing problems. As soon as he stepped out of the car, he collapsed and stopped breathing. 
"I screamed for help and saw a Cox employee in blue scrubs coming out of the ER door," the patient's wife wrote. "At that time, I couldn't tell you what Kyle looked like or his name, but he was there in an instant and immediately started administering CPR in the parking lot. Kyle worked on him for several minutes until other staff came out to assist him. I feel like this was definitely a challenging crisis situation and Kyle delivered exceptional care with a fast reaction time. I am forever grateful that Kyle was working at the Cox Emergency Room that day and was able to help my husband and me in this situation."  
As Kyle and the team were working with the patient, Ashly comforted the patient's wife. 
"Ashly was by my side in the parking lot, talking to me as they worked on my husband. She kept me calm and was reassuring me they were doing everything they could to help my husband. Once my husband was in the ER, Ashly took me to the private consult room to wait instead of in the waiting room. Ashly was very compassionate and comforting. She got me water and the chaplain to talk to.  
"I believe that Ashly knew my husband would probably not survive, so she allowed my children to visit him. Ashly was with me every step of the way and helped me tremendously. I am forever grateful for her compassion that night. I will always remember her."
Branson
Callie Woods, Women's Center
A pregnant patient going through an already challenging time got into a car accident and needed to be monitored for four hours. The patient, due to the accident, was now without a car or transportation. The patient has three children, two with special needs and is making the most selfless decision to put the child she is carrying up for adoption.  
Callie, after her shift at the clinic, came to Labor and Delivery to check up on the patient. During their visit, the patient voiced a concern regarding her daughter being upset that she could not finish cheer since they no longer had transportation. Callie realized her daughter went to the same school and cheer times. She proceeded to take the patient's daughter to cheer and has now done so multiple times.
Samantha Hamilton, Emergency Department
One night we had a couple that had come in by ambulance and didn't have a way back to their hotel. The local cab companies were closed for the night. Sam, who had already worked a 16-hour shift, volunteered to drive them to their hotel. The couple was extremely grateful.   
Sam also found out that it was a co-worker's birthday as she was leaving. She went by Casey's for snacks and brought them back to the hospital after she dropped the couple off. Sam always goes above and beyond for her patients and her co-workers.