Posted by Kaitlyn McConnell on Oct. 20, 2017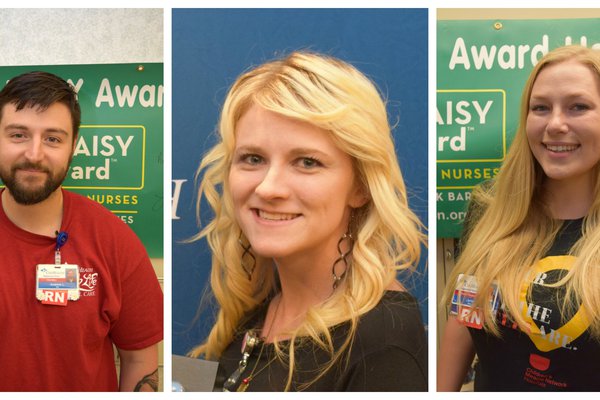 Each quarter, CoxHealth recognizes nominated nurses with DAISY Awards.
The DAISY Award for Extraordinary Nurses is presented in medical facilities throughout the United States to recognize the education, training, skill and compassionate care nurses provide. Patients, their friends and families, colleagues, physicians and volunteers may nominate a nurse for the award.
Andrew Leshin, CCU/MICU
A fellow nurse nominated Andrew for the compassion he showed to a patient who was making the transition to comfort care at the end of life.
After the comfort care order was put into action, Andrew gathered a team of nurses and PCAs to fulfill the patient's last wish of sitting outside on a porch one last time. They put him in a wheelchair, gathered multiple oxygen tanks and took the patient out to the patio at the West Pavilion with his family.
"The patient was so thankful and he smiled so big," Andrew's colleague wrote in the nomination. "Andrew then stayed to sit and talk with the patient, as his family was unable to stay with him after his oxygen was removed. The patient was made comfortable and Andrew sat next to him holding his hand. Andrew answered all the patient's questions and shared a few laughs with him in his last moments.
"Andrew went more than above and beyond. I only hope my family members can have a nurse as compassionate and caring as Andrew if the situation ever arises. Andrew is truly a remarkable nurse, not only on this day, but on every day he comes to work."
Emily Matheson, Neonatal ICU
A nurse manager nominated Emily her for the care she provided for a premature newborn after a major trauma involving a pregnant patient. Due to the seriousness of the mother's injuries, she was cared for in the Emergency Department and Neurotrauma while Emily took care of the extremely premature infant in the NICU. 
"Emily continued to provide care until the baby passed away just prior to Emily's shift ending at 7 a.m.," the manager wrote in the nomination. Emily stayed four hours after her shift to care for this baby post mortem and to make sure the family had all the items she could give them for memories. Emily even called in a professional photographer to take pictures for the family.
"During all the care, Emily played lullabies softly in the patient room. Emily held this baby girl until she passed as the mother was in NTICU and the father was too overwhelmed and could not do it emotionally. This little girl passed away in the loving arms of the nurse who cared for her until the end of her short life. Emily exemplifies what an extraordinary nurse is."
Jenea Vanman, 900 Medical-Surgical
A colleague nominated Jenea for the care she provided for a patient who came to the floor after suffering a septic miscarriage.
"This young lady was scared and in pain. Jenea stayed with her, held her hand and kept her calm," the nomination read. "She helped get her comfortable and talked her through the whole ordeal. She stayed with her, rubbed her back and when it was over, the patient told Jenea she deserved an award. Jenea is such an amazing, caring nurse and she touches everyone's lives in such a positive light. She is a blessing."