Posted by Randy Berger on April 2, 2021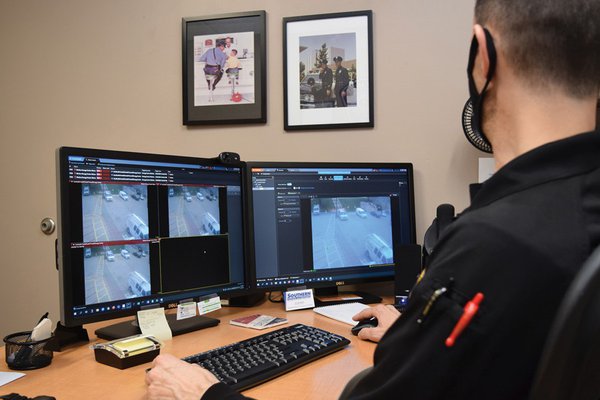 Security's Adam Willcock monitors video feeds from a few of the more than 1,000 cameras that cover CoxHealth's campuses.
Last December, thieves made off with thousands of dollars' worth of tools and construction supplies in late-night crimes on the Cox South campus.
Public Safety and Security staff were able to see the suspect's vehicle in video footage, the morning after the theft.
In January, what appeared to be the same vehicle appeared on camera again near the Cox South loading dock. This time, security officers caught a pair of thieves in the act, thanks to a newly implemented feature of our video surveillance software.
Now, when video surveillance detects motion where there should be none – like the dock at 3 a.m. – the software sends an alert to officers on duty. In this case, officers responded in less than two minutes.
Corporate Vice President David Taylor had asked if alerts triggered by motion detection were possible after the first theft occurred. Adam Willcock, security specialist and one of the department's unofficial video management gurus, began researching the possibilities.
For the last several years, CoxHealth has used an advanced surveillance software called Genetec. The system monitors hundreds of cameras across the health system, including Branson, Monett, Barton County, our new super clinics and more.
The Genetec system has always featured motion detection, tracking spikes in activity.
Working with our surveillance software vendor, Willcock set up "digital tripwires" that now trigger a real-time alert. Those tripwires are now in use on select camera views, such as loading docks or any other areas where theft is suspected.
"It is hard to have physical security in every area, 24 hours a day," says Anna Loper, office supervisor in Public Safety and Security. "Motion detection is something we can use to augment manpower. It was fairly easy to implement, and it seems to be working."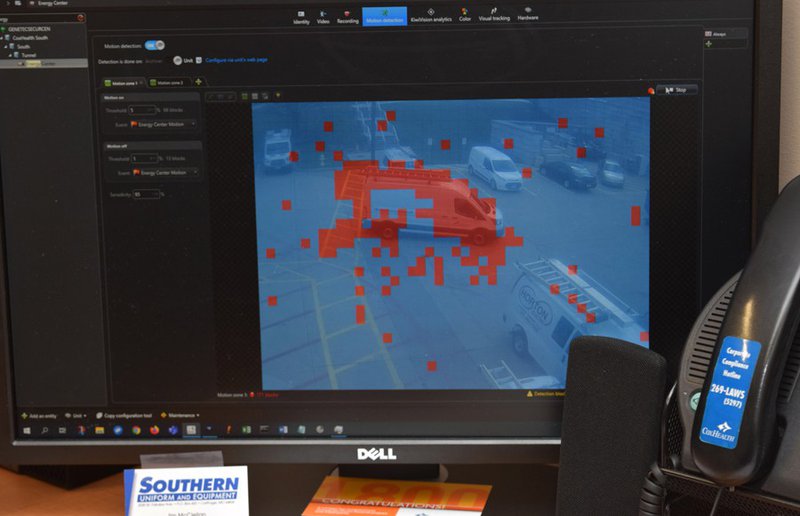 Genetec software detects the motion of a vehicle in the red blocks above. The system is sensitive -- the single red blocks above may indicate something as small as light changes due to clouds passing overhead. Users can set triggers for alerts based on the number of blocks activated. This helps filter out small motion and catch the larger, multi-block motion of a person or car moving through the frame.
How the system works
The Genetec software divides an image from a camera into a 1,000-block grid. The software can detect motion in each of the grid boxes. Security sets a threshold number of affected blocks to trigger an alert.
For example, a single person walking through a parking lot might create motion in 10 blocks, whereas a car passing through the frame (above) would create motion in more than 25 blocks.
So, if a user wanted an alert for any time a vehicle passed through, they could set a threshold of 25 blocks to trigger an alert.
"This can target down to a set of pixels," Willcock says.
Users can set "tripwires" on any part of the image frame they want – highlighting an area of a parking lot, or a space near a door for example. Any motion detected in those areas can send an alert.
The system can also be set up to alert during specific times of day.
Willcock and Loper point out that since the arrests in January, there have been no more instances of theft from the Cox South dock.
Security continues to monitor areas for any signs of theft across all of our campuses. Knowing they have the ability to set up motion-detection tripwires and real-time alerts anywhere they see signs of theft is a game changer that drastically increases the chances of catching a thief.
"With the West Tower and other expansion, we have more than double the cameras we have had in the past," Willcock says. "This is another tool in our belts. The alert technology can be used in a lot of different capacities."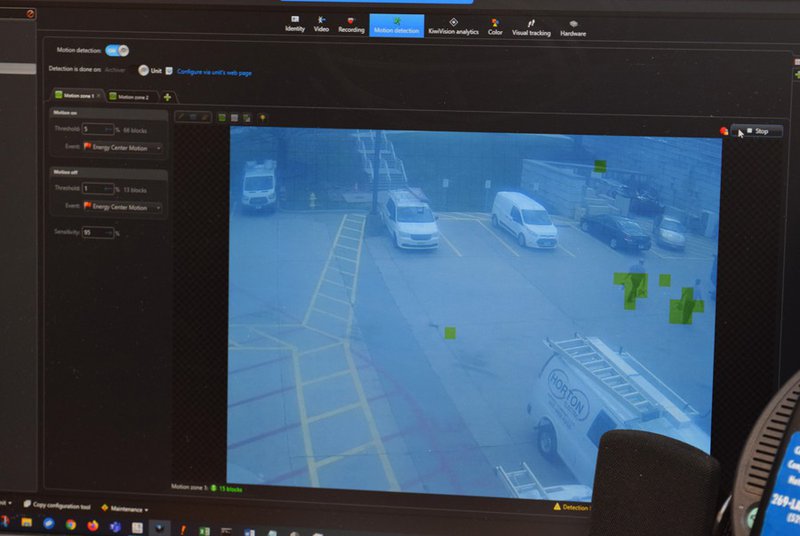 Motion is detected in the green blocks as people walk through this camera image.
Here is how you can prevent crime
Our campuses attract a lot of traffic, and recent construction can create a prime target for theft.
Anna Loper is quick to point out that we all have a role to play in keeping our campuses safe.
We can all be eyes and ears for Public Safety and Security, if we remember the basic rule: "see something, say something."
"If you see something that makes you uncomfortable or uneasy, or if there is something going on, anyone can call the Security office or call the operator," Loper says. "You never want the feeling of noticing something but not saying anything. We want everyone to be ahead of the curve and be proactive."
Always be aware of your surroundings. If you see something unusual, like someone checking door handles in the parking lot, for example, let Security know.
Another way you can help: download and use the CoxHealthSAFE app. You can use safety features like the friend walk in the app, and it also is an easy way to submit a report that alerts Security.
"The app has helped us so much," Loper says.
Other key tips:
Always let Security know about theft.
Always lock your vehicle.
Don't leave valuables in sight in your vehicle.
Don't leave mail with your address in your vehicle.
Don't leave weapons in your vehicle.
You can contact Security 24 hours a day by dialing 269-6120 for the South campus, 269-3715 for the North campus, and 269-9623 for the MORH campus. Dialing "0" from any in-house phone will connect you to the hospital operator, which will take the call and relay the appropriate information to the officer on duty.