Posted by Kaitlyn McConnell on Feb. 2, 2017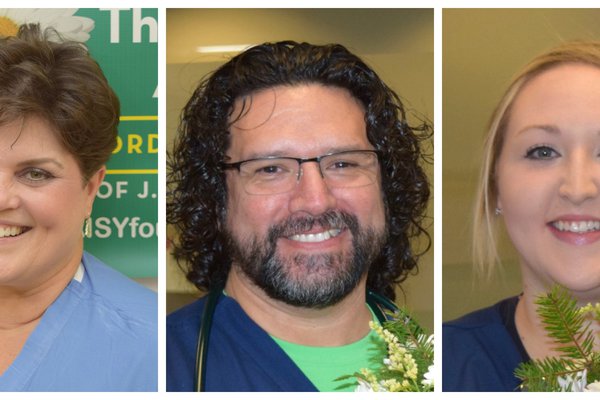 Each quarter, CoxHealth recognizes nominated nurses with DAISY Awards.
The DAISY Award for Extraordinary Nurses is presented in medical facilities throughout the United States to recognize the education, training, skill and compassionate care nurses provide. Patients, their friends and families, co-workers, physicians and volunteers may nominate a nurse for the award.
Here are the most recent honorees:  
Debra Lay, Radiology Care Unit, Cox South
Debra was recognized for the extra care she provided to a patient who suffers from severe claustrophobia. The patient was scheduled for an MRI and because of a traumatic experience in her past, she requested anesthesia for the procedure.
After talking with the patient, who had traveled from an outlying area for her test, Debra began making calls to find an anesthesiologist.
"Due to her extraordinary concern for me, Debra found a physician who could help me later that day," the patient wrote in the DAISY nomination. "She stayed with us through the whole experience and even brought my husband and I boxed lunches so we would not have to stop on our way home when we left at 6 p.m."
"Never can I remember having such a totally involved nurse who took a challenging situation and skillfully demonstrated all of the attributes of a nurse who is deserving of the DAISY Award," she wrote.  
Edwin Espinoza, Critical Care, Cox Branson
Edwin received two nominations from the families of patients he cared for in the Critical Care unit. Both noted the extra time and care he took with their family members. Edwin helped an out-of-state family get back to their hotel after an emergency brought them to the CCU and he provided compassionate care for patients and their families during their stay.
"Edwin was one of the nicest people we met while my husband was there," one family member wrote. "He always had a smile on his face when he entered the room and before he would leave he always asked if we wanted or needed anything. … I spent the night there one night and he came into my husband's room quite often to make sure he wasn't in pain and to see if he needed anything. You need more like him."
Elisabeth Choate, Critical Care, Cox Branson
Three patient families nominated Elisabeth for the care she provided. They noted above-and-beyond efforts, such as printing out pictures of scenery for an elderly patient and taking extra time to explain the care being delivered to patient families.
A few of the nomination comments:
"Elisabeth has just been the best nurse and the greatest lady," one family member wrote. "She was so nice to me and she told us what was going on so that we understood. She acted like we were family. We just love her!"
A patient's wife wrote: "Elisabeth is the kindest nurse we have ever had, she exceeds the everyday responsibilities. … She just brightens up our whole day and is great all the time. Without her I don't think my husband would be here now."