Posted by Kaitlyn McConnell on Jan. 30, 2020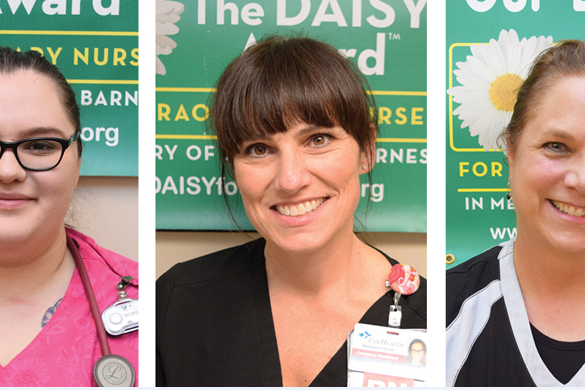 Each quarter, CoxHealth recognizes nurses who have provided outstanding care with DAISY Awards. The DAISY Award for Extraordinary Nurses is presented in medical facilities throughout the United States to recognize the education, training, skill and compassionate care nurses provide. Patients, their friends and families, co-workers, physicians and volunteers may nominate a nurse for the award.
Here are the most recent Springfield honorees:
Ashlyn Hilt, Women and Newborn
Ashlyn Hilt was nominated for the compassion she displayed toward a patient who was hospitalized for the final month of her pregnancy.
The patient lived in a rural area and was far from family and friends. Caregivers learned she had survived a variety of difficult life circumstances that had left her traumatized. During her stay, her only visitor was her husband, who was not always available to visit. 
"Ashlyn, along with support staff, took their care and compassion to the next level and put together a day-long, come-and-go staff baby shower for her," one of Ashlyn's colleagues wrote in the nomination. "Ashlyn stayed late decorating the room with all the balloons, streamers, cut-outs and food you would expect to see at any shower. They invited staff from Women and Newborn and the response was overwhelming. Staff brought gifts for her and the baby throughout the day, some even coming in on their day off."
Because of Ashlyn and her colleagues, this couple will go home with much-needed supplies to start their life as a new family. They will also know that at CoxHealth we truly do care for not only our patients' physical needs, but also the needs we identify when we connect and build trusting relationships."
Jamie Bateman, Cox North Emergency Department
Nurse Jamie Bateman was nominated for stepping in to help a patient in need.
Bateman cared for a female patient and the patient's 5-year-old son in the Emergency Department. The mom and son had been assaulted and abandoned in another state by an abusive boyfriend. A truck driver had picked them up and brought them to the ED.
After being treated for her injuries, the mom had no way to get back to her home in another state.
"Jamie took it upon herself to buy Greyhound bus tickets for the mom and her son so they could safely travel home," her colleague wrote in the nomination. "Others chipped in to help, because that is what we do here, but Jamie's initiative and compassion went above and beyond."
Karyn Hembree, Cardiovascular ICU
A patient's spouse wrote to nominate Karyn Hembree for the care she provided during his wife's final days.
Karyn prayed with her patient's husband after the family was forced to make difficult decisions regarding her care. When it became clear the patient was nearing her final moments, Karyn was there.
"Karyn made sure all the family could remain in the room and that we were as comfortable as possible," the patient's husband wrote. "Karyn asked if we would like for her to sing, and she sang two of my wife's favorite hymns for her.
"While saying goodbye has been terribly difficult, Karyn made this difficult time more bearable. Karyn is truly an angel of mercy and does CoxHealth and her profession proud. I am so glad she was my wife's nurse those final two nights. She is a wonderful example of what a caring, compassionate nurse should be."