Posted by Brandei Clifton on May 20, 2021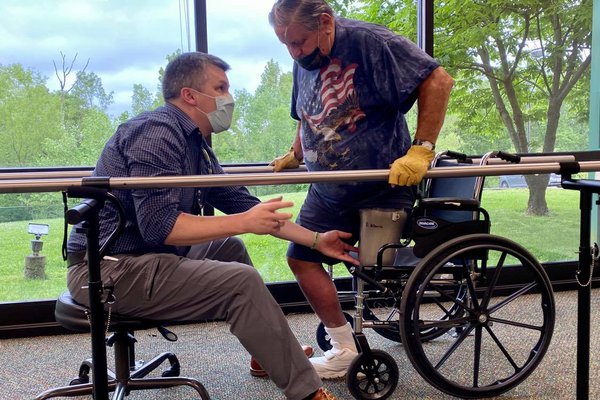 Bob Osborn of Lampe is being fitted for a new prosthetic limb and is thankful to receive care closer to home. He's one of the first patients at CoxHealth's new Prosthetics and Orthotics clinic now open in Branson.
"It's so handy to make a short trip for the help I need," he says. "Everyone is so nice and knows their stuff!"
The clinic's team of certified prosthetists, orthotists, assistants and fitters work closely with the patient and the patient's provider to achieve perfect fits and solutions in a timely manner.
"Giving folks this strong resource right here at home is going to be huge in their wellness journey," says Chris Cobb, clinic manager. "We become part of their care team and collaborate with their doctor to give these patients the best outcome."
The clinic offers all forms of above- and below-the-knee prosthetic care, including:
Partial foot – chopart and toe fillers
Symes amputations
Transtibial – below knee
Knee Disarticulation
Transfemoral – above knee
Hip disarticulation and hemi-pelvectomy
All levels of upper extremity
For patients who need orthotics and bracing, the clinic offers both custom and prefabricated care with regard to:
Diabetic shoes and inserts
Custom shoes and shoe modifications
Foot orthotics
Scoliosis
Spine and back
Knee
Upper extremity orthoses – wrist and elbow
Comprehensive pediatric services, including cranial remolding helmets
Ankle-foot orthosis, knee-ankle-foot orthosis
Staff works closely with therapy teams before and after prosthetic fittings to ensure patients' functional goals are met.
"Seeing them succeed is what this is all about," Cobb says. "The work of this clinic perfectly aligns with CoxHealth's vision to be the best for those who need us. We're so excited to be in the Branson community to give folks a close place to take their lives back."
CoxHealth Prosthetics and Orthotics Branson is located at 890 Highway 248, Suite 100 and is open Monday to Friday, 9 a.m. to 3:30 p.m. Patients will need a doctor's order for services. Financial assistance is available. For more information, call 417-730-5150.