Posted by Kaitlyn McConnell on March 8, 2021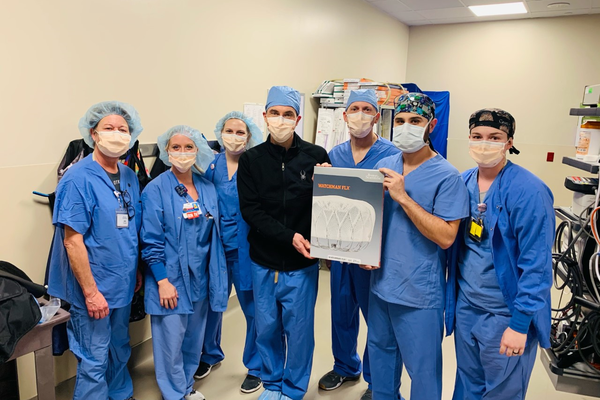 Patients with atrial fibrillation have an enhanced way to reduce the risk of suffering a stroke: The Watchman Flx, a tiny device that helps keep blood clots from forming in the heart.
The Watchman Flx works like a sieve in the heart, keeping blood from pooling in an area where most clots form in atrial fibrillation. It's an expansion and advancement of a procedure offered at CoxHealth, and offers the ability to treat difficult cases involving the left atrial appendage. The new device brings added safety and success for those who were not candidates for the previous option.
"This new procedure is an expanded opportunity to offer long-term stroke protection without the need for long-term blood thinners for patients with atrial fibrillation," says Dr. Philipp Wiesner, an Interventional Cardiologist with CoxHealth who helped implement the procedure. "Advocating for our patients to get them the best is a top priority for us, and we're already seeing great success in the patients we have served."
The Watchman Flx is implanted through a minimally invasive transcatheter approach and is designed to last a lifetime. Such treatment is especially revolutionary for patients who aren't able to take anticoagulants (commonly known as blood thinners) which are drugs used to prevent blood clots.
For more information about the Watchman Flx, please call 417-875-2646.