Posted by Kaitlyn McConnell on Nov. 3, 2016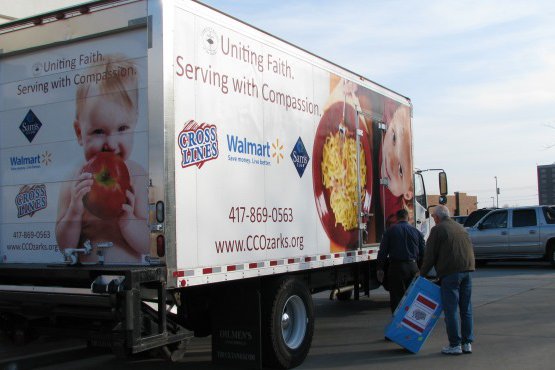 Increasing numbers of people across the Ozarks are relying on food pantries to meet their daily needs.
However, when it comes to people with health-restricted diets, sometimes there are few options for food. That's why CoxHealth's employees are working to pack local pantries with foods that are low in sugar, salt and fat – and the community is invited to take part! 
"We know that obesity, heart disease and diabetes are leading health issues in our community," says Glenda Miller, CoxHealth collaborative care coordinator and food drive organizer. "By donating healthy foods to our local pantries, we are helping not only provide much needed food for our friends and neighbors, but also support those who wish to eat a heart-healthy diet."
Springfield's donations will benefit Crosslines, a local food pantry that serves an average of 3,600 Ozarkers every month.
"As a client-choice food pantry, it is important to Crosslines to provide a selection of healthy, nutritious food for families and seniors," says Crosslines director Tom Faulkner. "Through CoxHealth's healthy food drive, Crosslines will be able to help meet a special need for those with dietary health conditions, especially those that may have high blood pressure, diabetes, or even chronic heart disease issues."
The food drive begins on Nov. 2, which coincides with National Eating Healthy Day, and runs through Nov. 18. In Springfield, donation bins will be placed at Cox South (near the north entrance, West Pavilion entrance and West Tower entrance), Meyer Fitness Center (inside the front entrance), Meyer Orthopedic & Rehabilitation Hospital (near the cafeteria), CoxHealth Surgery Center (inside the south entrance) and Cox North (outpatient entrance and near the FMCC entrance).
Some suggested items include no-sugar-added applesauce, 100-percent-fruit cups, low-sodium or "no salt added" canned vegetables, reduced sodium spaghetti sauce, tomato paste, brown rice, whole wheat noodles, canned chicken and dried beans.
Food donated in Springfield will be provided to Crosslines, Branson's food donations will be sent to pantries operated by Christian Action Ministries, and Monett's goes to Monett Community Kitchen.
---
Download a shopping list