Posted by Kaitlyn McConnell on Jan. 30, 2018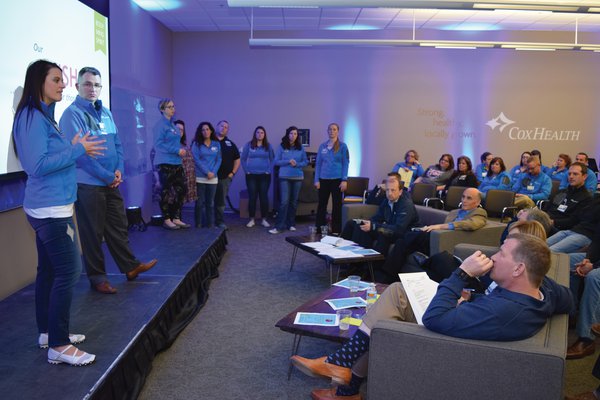 In an effort to find better ways of working, CoxHealth's third Innovation Accelerator begins today. The annual event allows 50 employees – from entry-level to executive – to share their ideas for how the health system could be more innovative.
However, there's an added twist to 2018's event. This year, two teams of GO CAPS students will also workshop ideas in an effort to develop additional unique solutions.
"We love this event, because it brings great ideas to light that can really benefit our organization," says Scott Rogers, CoxHealth's system director for Performance Integration and Innovation. "This initiative allows employees' ideas to become the next 'big things.'"
Practically speaking, here's how it works: Employees applied to participate in the event and 50 were chosen. Those individuals will gather at The eFactory, each with one minute to present their best idea for innovative improvement. After that, the participants will break into teams and develop between five and seven of the ideas. 
In addition to CoxHealth leaders, teams will work with the help of business coaches Rob Fulp, Dennis Heim, Kurt Hellweg and Bob McDowell, who are all members of the CoxHealth Board of Directors.
On Wednesday afternoon, the groups will present their ideas to CoxHealth leaders including Steve Edwards (president and CEO), Jake McWay (senior vice president and CFO), Darren Bass (president of Cox Monett and system vice president of the Community Hospital Group) and Jann Holland (vice president of Marketing and Corporate Communications). They will be joined by Sally Hargis and Jack Prim, who are also members of the CoxHealth Board of Directors.
Ultimately, 2018's winning ideas – as well as others suggested during the event – will likely be implemented throughout CoxHealth.