Posted by Kaitlyn McConnell on Jan. 12, 2018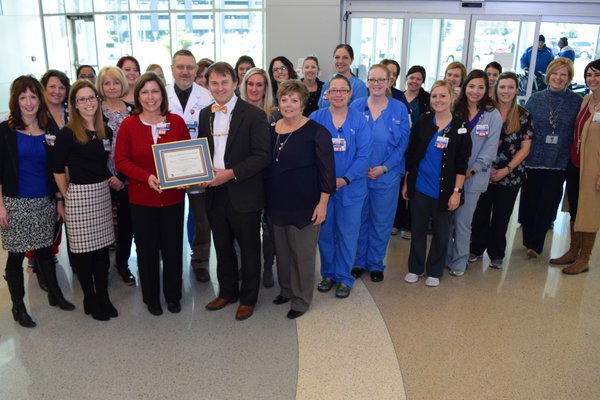 The thousands of babies delivered annually at Cox South and Cox Branson have a new reason to smile: The hospitals have been recognized as Missouri "Show-Me 5" hospitals.
Bestowed by the Missouri Department of Health & Senior Services (DHSS), the recognition means that the CoxHealth hospitals assure that the maternity care practices followed after birth help support successful breastfeeding.
"While we have done many of these steps for years, we took applying for this designation as an opportunity to further help mothers be even more well-supported in breastfeeding their babies," says Beth Polivka, administrative director of Nursing at CoxHealth. "We're very proud of the designation, as we always want to ensure we're doing what's best for our patients."
The "Show-Me 5" designation is held by only 13 hospitals across the state, two of which are now Cox South and Cox Branson. The award is given to hospitals based on the staff implementing a series of maternity care best practices, which require that "Show-Me 5" hospitals:
1.    Help mothers initiate breastfeeding within the first hour of birth.
2.    Practice "rooming-in," allowing infants to stay in the same room as their mothers.
3.    Give infants no food or drink other than breast milk, unless medically indicated.
4.    Do not give pacifiers or artificial nipples to breastfeeding infants.
5.    Foster the establishment of breastfeeding support groups and refer mothers to them on discharge.
According to the DHSS, the benefits of breastfeeding are well established, and medical authorities agree breastfeeding is the optimal way to feed an infant. Additionally, birth facility policies and practices significantly impact whether women choose to breastfeed and how successful they are in reaching their infant feeding goals.
For more information about the "Show-Me 5" designation, click here.