Posted by Kaitlyn McConnell on March 2, 2018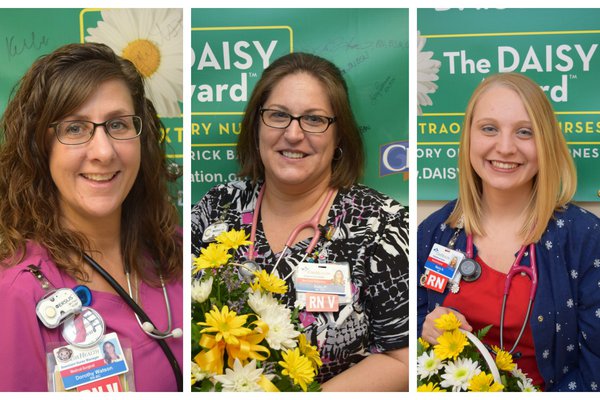 Each quarter, CoxHealth recognizes nurses who have provided outstanding care with DAISY Awards. The DAISY Award for Extraordinary Nurses is presented in medical facilities throughout the United States to recognize the education, training, skill and compassionate care nurses provide. Patients, their friends and families, co-workers, physicians and volunteers may nominate a nurse for the award. Below are the most recent Springfield honorees.
 Dorothy Watson, 900 East
Dorothy was nominated for her efforts to support a patient whose mother passed away while he was hospitalized.
The patient lived with his mother and she served as his caregiver. While he was in the hospital with a variety of issues, his mother became ill and was hospitalized in the ICU. Unfortunately she coded and passed away shortly after her arrival.
The patient did not have family who could transport him to his mother's funeral. He was stable enough to leave the hospital briefly, but he would need a nurse to accompany him. Dorothy stepped forward and volunteered.
"The patient was so thankful that he was able to go to his mother's funeral because of Dorothy being willing to come in on her day off, with very short notice," Dorothy's manager wrote in the nomination. "Dorothy is always so caring and kind and puts her patients first no matter the situation. She is a great example of the kind of RNs we want at CoxHealth.
Kelly Pittman, 300 West
Kelly was nominated by a fellow nurse for the care she showed to one of her former patients.
She came to visit a patient she had cared for previously in the Stepdown Unit. The patient had been placed on comfort measures and had no family present during this process.
Kelly took it upon herself to sit and comfort this patient until the patient peacefully passed. 
"Kelly showed a level of compassion that far exceeded her duty. I am forever grateful that she was able to be with this patient in their time of need," her colleague wrote. "I know this patient is thankful for the time Kelly spent with them."
Maria Nichols, 200 Med-Surg
Maria was nominated for going above and beyond to assist a patient's family in a time of need.
Maria was caring for a patient who was a refugee from Africa. The patient and her five children were living in a group home in Springfield. Since the patient was going to be hospitalized for an unknown amount of time, a family friend was able to take the children in while the patient was in the hospital. The family friend was disabled and was not going to be able to feed five additional mouths on her Social Security check. However, the family friend did not want the children to go into social services while the mom was in the hospital. 
Maria was aware of the family dynamics going on and wanted to get the children as much help as possible. 
"Maria has such a kind, compassionate heart that she went to the supermarket and bought bags of groceries for this patient's children," one of Maria's managers wrote. "Maria is the kind of nurse we need caring for our patients and families. One that can help, offer compassion, and sympathize to help make a very trying difficult situation into something more positive."