Posted by Yvette Williams on Dec. 6, 2016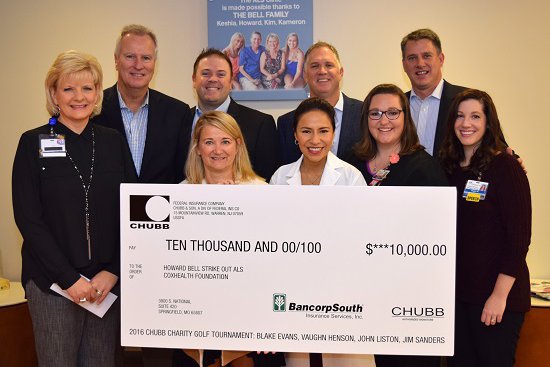 CoxHealth Foundation received a $10,000 donation from the CHUBB Federal Insurance Company in honor of BancorpSouth Insurance Services, Inc.
The funds will be used for the CoxHealth ALS Clinic that provides coordinated care and support to ALS patients in the region.
The group from Bancorp South presented the check this week to CoxHealth Foundation President Lisa Alexander and staff from the ALS Clinic at Cox South. The money was raised when the team from BancorpSouth placed in the top ten in the 2016 CHUBB Charity Golf Tournament. The award was $10,000 for the charity of their choice. 
Pictured (back row): Lisa Alexander, Jim Sanders, Blake Evans, John Liston, Chris Stack. Front row - Kim Bell, a donor who helped start the clinic after her husband, Howard Bell, former coach at Glendale, died from the disease; Dr. Tania Papsdorf, Lisa Potthoff; and Mallory Moore, who work in the clinic.