Posted by Kaitlyn McConnell on Sept. 20, 2018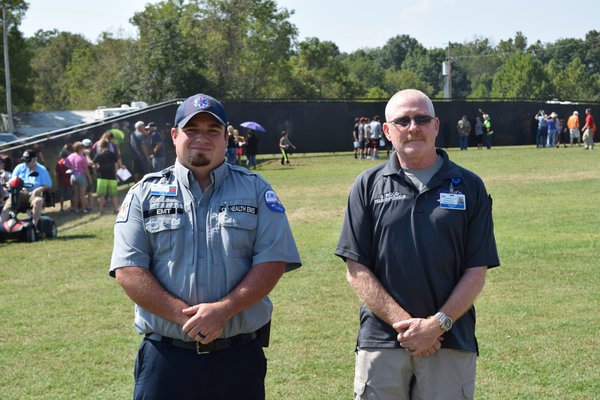 Flags fly in the breeze as visitors walk up to the wall, the great granite slab that shows some 58,000 names. In tiny type, it honors the names of soldiers killed in the Vietnam War.
Some visitors search for friends and family, while others simply come to learn and honor the ultimate sacrifice.  
Those individuals aren't at the Vietnam War Memorial in Washington D.C. Instead, they are near Ava, where The Wall That Heals – a three-quarter scale replica of the national memorial – is stationed through Sept. 23.
And while they're there, CoxHealth Emergency Medical Services (EMS) professionals are on hand to ensure everyone stays safe.
"I said we'd supply standby units for whatever was needed," says Steve Wood, CoxHealth EMS supervisor.
The small Ozarks community is the only Missouri town to host the replica in 2018. To give the public ample time to visit, the wall is open 24/7 and is free and open to the public. During that time, CoxHealth will be on-site from 7 a.m. to 11 p.m.
While the biggest concern is heat-related issues – there have already been a number of individuals treated in connection with the wall's arrival – EMS professionals are ready to serve however they are needed.
"We've got a lot of veterans out here," says Wood. "It's very emotional, so there might be some distress. But the main thing is going to be the heat."
During the first full day, crowds quickly gathered at the wall despite the heat of the midday sun. They represented all ages: Kids on school field trips, to veterans wearing hats and vests tied to their service.
One of those visitors is James Smith. A Vietnam veteran, James spent around a year overseas before coming home to his wife and children.
"I wasn't no hero, but I did my duty," he says.
Wearing a hat telling of his time in Vietnam, James sits on a bench near the wall. He took time to drive from the tiny town of Wasola to visit the memorial and remember the individuals who gave their all.
"Not all (soldiers) made it home like I did," he says.
As he sits and watches, a CoxHealth EMS crew stays in the background. If anyone needs them, they'll be ready.
"To be here and help the public, it's an honor," says Wood.