Posted by Kaitlyn McConnell on March 26, 2019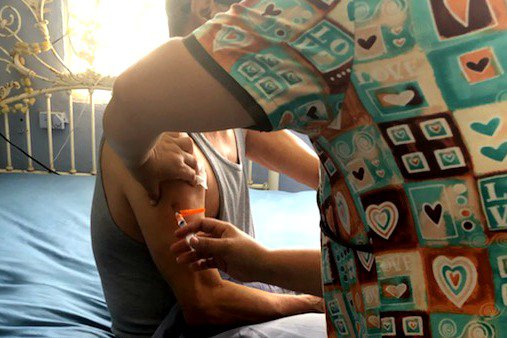 Flu shots have become a common part of culture in the mainland United States. They prevent disease, reduce symptoms, lessen transmission — and are seemingly available wherever one looks.
That, however, is not the case in Puerto Rico. In the community of Punta Santiago, vaccines are currently scarce for anyone, let alone those who need them most. That's a challenge, since the country's flu season -- which is different than Missouri's -- is currently amping up.
The great need led CoxHealth to donate 100 vaccinations to Centro Services Multiples Punta Santiago, a local clinic that offers preventive care and referrals for people throughout the surrounding area. 
The clinic was destroyed in Hurricane Maria, which crashed through the island in September 2017. Today, the clinic is still recovering from the disaster. 
A small white refrigerator, near a sink that still doesn't work, holds vaccines. They're what remain after the majority are administered to home-bound patients – such as those with disabilities, or even cancer – who represent the greatest need.  
The vaccines were hand-delivered last week when CoxHealth leaders visited the clinic and its community on a service trip.
One CoxHealth leader, who assisted as home-bound individuals were vaccinated, notes how honored she was to travel throughout the community with clinic staff.
"Despite our language barrier, it was evident the people in this community were welcoming and gracious to allow us in their homes and share their stories of survival," says Lynne Yaggy, chief nursing officer and Vice President of Clinical Services at Cox Branson. "Many had stayed because they were bed bound. It was so humbling to see their courage and determination to stay and rebuild. We saw varying degrees of repairs and how important their community relationships are to moving forward. Being a very small part of that effort was rewarding and inspiring. I'm looking forward to the impact CoxHealth will have on this community!"
In addition to the flu vaccines, CoxHealth donated thousands of dollars in medical equipment and products to the clinic, which will in turn distribute them to patients in need throughout the area for free. Leaders also helped restore a local family's home that was destroyed in the hurricane.