Posted by Kaitlyn McConnell on Nov. 29, 2016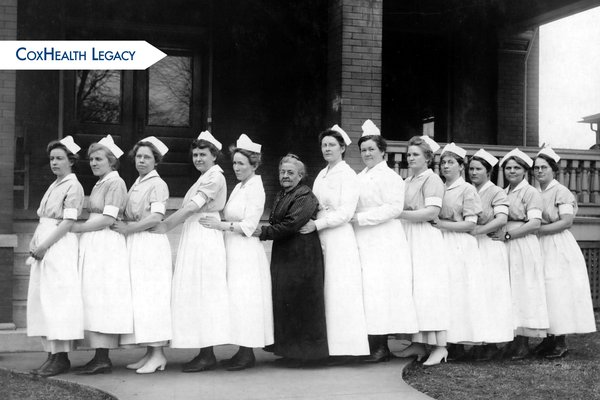 Ellen Burge, center, is shown with nurses.
CoxHealth began with a duplex – and a woman named Ellen Burge
Many throughout the Ozarks are familiar with Burge: For years, it was the name of the hospital known today as CoxHealth. However, it's likely that far fewer know just who – and why – the Burge name came to be.
It was in honor of a lady named Ellen Burge, "a fine, beautiful character, responsive to human needs and ever willing to give herself and her substance," according to a 1922 edition of "The Central." 
It was a fitting tribute. After all, Mrs. Burge donated her duplex for the hospital's first home: A hospital that held its grand opening on Nov. 29, 1906.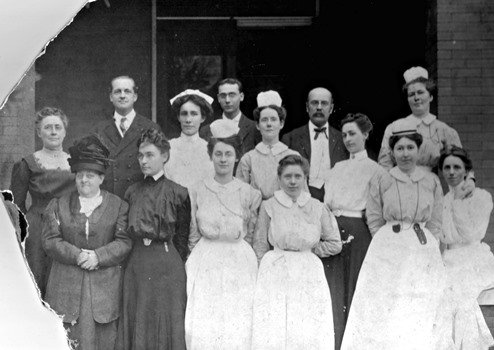 Ellen Burge (left, front row) is shown in an undated photograph at the hospital.
Mrs. Burge wasn't a Missouri native. She was born in Massachusetts, lived for a period in Georgia, and moved to Springfield in the 1860s after her marriage to George Burge. Her spirit was one of philanthropic support of the community – especially when Methodist concerns were involved.
A charter member of the Benton Avenue Methodist Episcopal Church, she also served as its first Sunday school superintendent. Her help was also felt at Ozark Wesleyan, a college in Marionville, Mo., where she gave a 40-acre tract of land and a dormitory dubbed Burge House.
But her greatest project came about in the early 1900s. According to some, Springfield was in need of a Protestant hospital, and Mrs. Burge was just the person to help with the project. When presented with the need, she ultimately gave a frame duplex to the cause.
That first facility for Burge Deaconess Hospital was unveiled on Thanksgiving Day in 1906, garnering attention on the front page of the Springfield Republican.
"Burge Hospital opens its doors," the headline proclaimed, noting that it was in the charge of the Methodist Church and that it had the most modern of conveniences. "The building, a two-story frame, was planned by Mrs. Ellen A. Burge for a double residence structure. She expended about $8,000 for improvements and afterward donated it to the Woman's Home Missionary Society of the Methodist Episcopal church."
The article also noted that "notwithstanding the rainy, disagreeable weather a large number of citizens, including many ladies, called at the hospital and were shown through the various rooms. All seemed well pleased with the new institution."
Mrs. Burge was one of the people who met those visitors, as were several nurses. By design, the hospital was also to be served by "deaconesses," which according to unitedmethodistwomen.org, are laywomen "who are called by God to be in a lifetime relationship in The United Methodist Church for engagement with a full-time vocation in ministries of love, justice and service." 
There was a reason Mrs. Burge wanted those deaconesses involved. According to "The Central," Burge was a deaconess hospital because of the interest of the founder in "young folks," particularly young women. Because of that dedication, she probably was especially pleased for the launch of the Burge School of Nursing – today's Cox College – in 1907.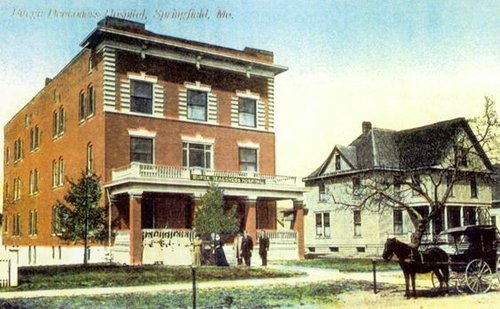 Burge Deaconess Hospital's early facilities included a brick building (left), constructed in 1908, and the duplex donated by Mrs. Burge (right).
As time progressed, Mrs. Burge stayed involved with the hospital as president of its board of managers.
She also continued to give of her resources: Less than a year after the hospital opened, she purchased an adjoining lot for expansion. A modern brick building, built in that space, was dedicated on March 20, 1908.
Even just a few years after its opening, the hospital was highly thought of in the community.
"This is one of the leading hospitals of the Southwest, is modern in every respect, sanitary, attractive and is well patronized. Its medical staff is composed of many of the leading physicians and surgeons in the city. Its training school for nurses has no superior," recorded the "Past and Present of Greene County," a book published in 1915. "The institution has been a decided success, hundreds of patients being cared for, and hundreds of dollars' worth of charity work has been done. In fact, this excellent hospital has filled a long-felt want and is greatly appreciated by the people of Springfield."
Mrs. Burge was committed until the end: On June 8, 1922, she passed away at the hospital that she herself founded. She would never know the impact that her donation would have on Springfield – and southwest Missouri. Today, Burge Deaconess Hospital has grown into CoxHealth, a five-hospital system with around 11,000 employees, nearly 1,000 licensed beds and more than 200,500 days of care each year. As a local non-profit organization, CoxHealth still serves: In its 2015 fiscal year, the system's contributions to the community came in at $868,151,190.
And it all began with Mrs. Burge.  
"These benefactions of Mrs. Burge … are only a portion of the splendid deeds the kindly benefices of this good woman's busy and helpful life," recorded the Republican. "She had no children of her own, but nature made her mother to all boys and girls whom she met. She instinctively loved people. To her the divine command 'Love ye one another,' was no idle dream. It was a mandate from her Savior which it was her inclination as well as one of her religious tents to obey."