Posted by Kaitlyn McConnell on May 5, 2021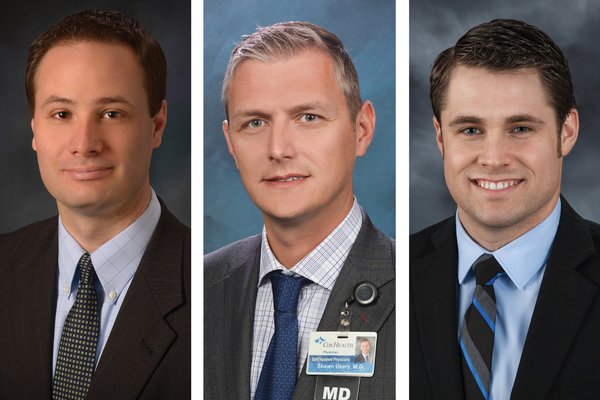 CoxHealth is pleased to announce the promotion of three leaders from within the system.
Max Buetow is being promoted to Executive Vice President and Chief Operating Officer of CoxHealth's Hospital Services line. Max has been with the health system and its associated organizations since 2012, which led to his current role as Vice President of Cox Medical Group over the health system's clinic and physician services. In his new role, he has responsibility for all CoxHealth hospitals, and will report directly to Steve Edwards, president and CEO.

Dr. Shawn Usery is being promoted to Chief Medical Officer for all of CoxHealth. A Springfield native, Dr. Usery has long connections with CoxHealth, having progressed through the Cox Family Medicine Residency, after which he served in patient care. He was promoted to his current role as CMO of CoxHealth's Community Hospital Group in 2017.

Brock Shamel is being promoted to Vice President of Cox Medical Group. Brock also has deep ties in southwest Missouri, and has been at CoxHealth since 2010, when he joined today's Cox Branson as an intern. In his new role, he will oversee CoxHealth's 80-plus clinics throughout the region and work to further integrate provider and patient interactions through enhanced opportunities.
"I feel it's very important to be intentional about growing our next generation of leaders, and balance opportunity for growth with seasoned expertise," says Steve Edwards, president and CEO of CoxHealth. "We have a great team now, but that is not enough. We must also look to the future, and part of ensuring we're prepared to serve our patients in years to come is developing the right people in the right places. I am pleased and proud of these leaders and am excited about the work that they have done – and will do – for CoxHealth, our patients, and our communities."