Posted by Kaitlyn McConnell on June 1, 2018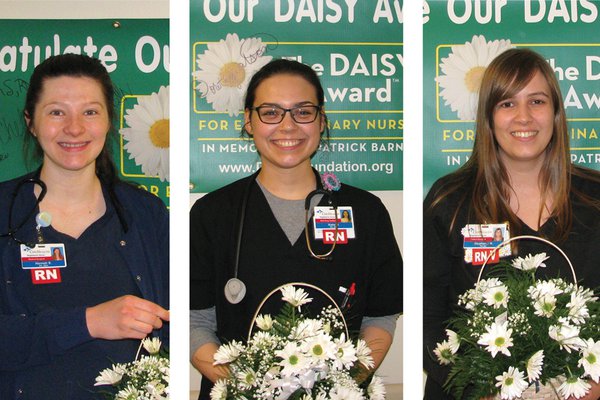 Each quarter, CoxHealth recognizes nurses who have provided outstanding care with DAISY Awards. The DAISY Award for Extraordinary Nurses is presented in medical facilities throughout the United States to recognize the education, training, skill and compassionate care nurses provide. Patients, their friends and families, co-workers, physicians and volunteers may nominate a nurse for the award.
Here are the most recent Springfield honorees:
Stephanie Hoffman, 900 Medical-Surgical
A colleague nominated Stephanie Hoffman for the extra effort she made to make sure a patient's birthday was special.
"Stephanie decorated the room of a patient who is very dear to the 9th floor. This patient has gone through a lot in the last few months," the colleague wrote in the nomination. "She also created a big card that everyone signed for him. This gesture made the patient very happy and appreciative of everyone on the floor. Stephanie is such a caring and compassionate nurse. It is great to have someone like her on our team."
Hannah Seckman, 900 Medical-Surgical
A patient nominated nurse Hannah Seckman for her efforts to ensure that he received care for a skin wound that was unrelated to his hospital stay.
The patient had been scheduled for a biopsy of the affected area, but the biopsy had to be canceled because of his hospitalization. The patient was concerned about the wound, which had been slow to heal.
Seckman stepped in to make sure someone evaluated the patient's skin condition. She worked with a patient advocate and the nurse manager to arrange care from CoxHealth's skin team.
"They met with me, changed my dressings and gave me advice on a course of treatment," the patient wrote in the nomination. "Hannah worked with me to achieve what I felt needed to be done. She provided all that was needed to address my concerns. This all happened because Hannah Seckman would not give up on her patient."
Katie Wyatt, 300 East
A patient's granddaughter nominated Katie Wyatt for the personal care she provided after the patient was diagnosed with advanced lung cancer. It was a devastating diagnosis and the family was overwhelmed with a fear of the unknown.
"Ashley became our 'ray of sunshine' each evening when she came in. She brought a smile to my grandmother even after receiving devastating news," the patient's granddaughter wrote in the nomination. "We looked forward to Ashley. Aside from being an exceptional nurse, she went beyond the call of duty to encourage and bring peace to my grandmother, as well as comfort and provide strength to me.  
"Ashley sent an amazing note to my grandmother after her stay. That very note my grandma holds dear to her heart and to this day it sits on her side table by her chair to view as a reminder. Ashley Wyatt is an angel and was a true blessing to my grandma and our family to provide strength and compassion."