Posted by Kaitlyn McConnell on Aug. 17, 2018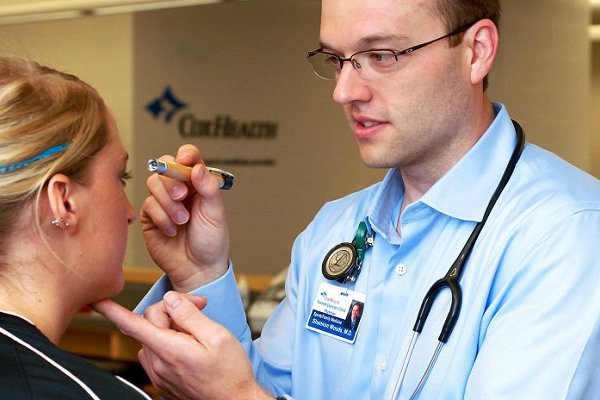 In an effort to catch cardiovascular issues before collegiate athletes take the field, CoxHealth is pioneering the use of pre-participation electrocardiogram (EKG) testing in southwest Missouri as part of annual sports physicals. Drury University and Evangel University are now part of the initiative, translating to more than 850 athletes.
Part of the decision to implement the testing ties to recent research, which has changed how EKGs are interpreted. The evolution makes this service more acceptable, accurate and capable at catching potentially fatal issues.
"This type of a program is seen at the professional sport levels, and has ability to save lives," says Dr. Shannon Woods, medical director of Sports Medicine at CoxHealth. "Our Sports Medicine team has assembled a group of providers and experts to make this program the most powerful in our area at detecting heart issues in college athletes, helping them avoid harm from undiagnosed conditions. We want to continually improve the care we give, so we're very excited to be able to routinely offer this testing to students."
An EKG records the electrical activity of a person's heart through electrode patches that attach to the skin of one's arms, chest and legs, and can identify unseen cardiac conditions that may present a health risk for an athlete. If an abnormal EKG is detected, the physician can decide to refer a patient on for a Cardiology consultation, or further testing.
It's an advancement that local university representatives are excited about.
"We have always appreciated our long-standing relationship with CoxHealth in addition to the professional and caring manner they've exhibited in the treatment they provide to our student-athletes," says Mark Fisher, vice president/director of Athletics at Drury University. "We're grateful to their medical team for working with our university to conduct these screenings and assisting our athletic training staff to help ensure the safety and well-being of our student-athletes."
"The commitment from CoxHealth has placed the care Evangel student-athletes receive among the best in the area, region, and the nation," says Dr. Dennis McDonald, athletic director at Evangel University. "Our partnership with CoxHealth is one that is not only valued on campus by our staff, but also by parents. We look forward to continuing to be at the front line of care and prevention and this partnership allows us to do that."